Fill USCIS i765 EAD Form Online (Using App)
Sample i765 EAD form for applying work authorization in USA. Send it to USCIS by paper mail. Choose options carefully to avoid RFE and processing delays.
AM22Tech Team
Updated 10 Jan, 23
You can file an EAD application yourself and save an attorney fee of about $500. The USCIS i-765 form is available online for free and can be filled out by anyone.
USCIS allows to fill and file the i765 for many types of EAD but not all.
At this time, these types of EAD cannot be filed online on the USCIS website. The only option is to fill paper-based application:
If you need help with validating the form values and making sure that you have made no errors, you can use AM22Tech's EAD form-filling app.
The app helps you get a pre-filled i-765 form for various types of EAD like L2, H4, F1, STEM OPT, and i-485 EAD.
You keep entering the values as you go along and then the app will take care of the rest automatically.
Once you have the pre-filled EAD form, you can print, sign, and send it to USCIS without taking any attorney's services. Isn't it great?
How to use EAD App
We will take an example of filing a US green card EAD application using the AM22Tech app.
#1 Choose the Application Type
The first step is to choose the type of EAD which in this case will be i485 EAD. The correct EAD category code will be filled up by the app. You do not need to worry about it.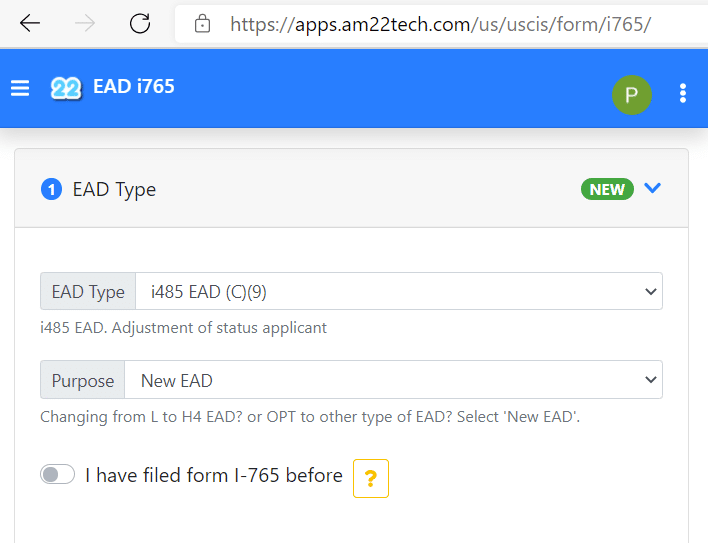 You can choose other types of EAD too and the app will automatically adjust the values required to fill out the EAD form.
For example, if you choose the application purpose as "Renewal/Extension", the app will hide the 'I have filled form I-765 before' option as you have already filled the form before if you are filing for an extension.
The app makes it easier for you and auto-completes fields based on your situation and as you enter information.
#2 Enter Passport Information
The next step is to enter your passport details. The app allows you to choose your previously entered passport information (securely saved on the server) for any other form on AM22Tech.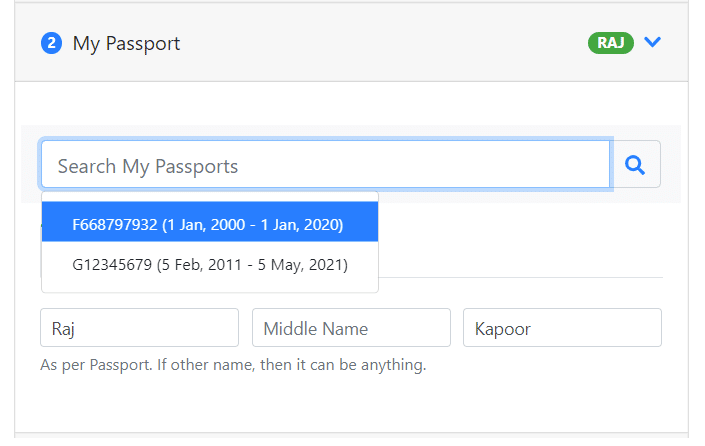 Just search or click inside the passport search box to select your saved passport information and it auto-fills all the fields for you.
#3 Marital Status and Other Names
Enter the marital status and your other names if you have any.
If you do not have any other alias, maiden (before marriage), or nickname, then you should keep the 'I have other names' option unchecked.
If you check it, the app will force you to enter at least one 'other name'.
#4 USA Last Entry Status
Your last entry in the United States and the visa type you used are important information on the EAD form.
You should make sure that you enter the correct details to the best of your knowledge to avoid delays or denial of your EAD application.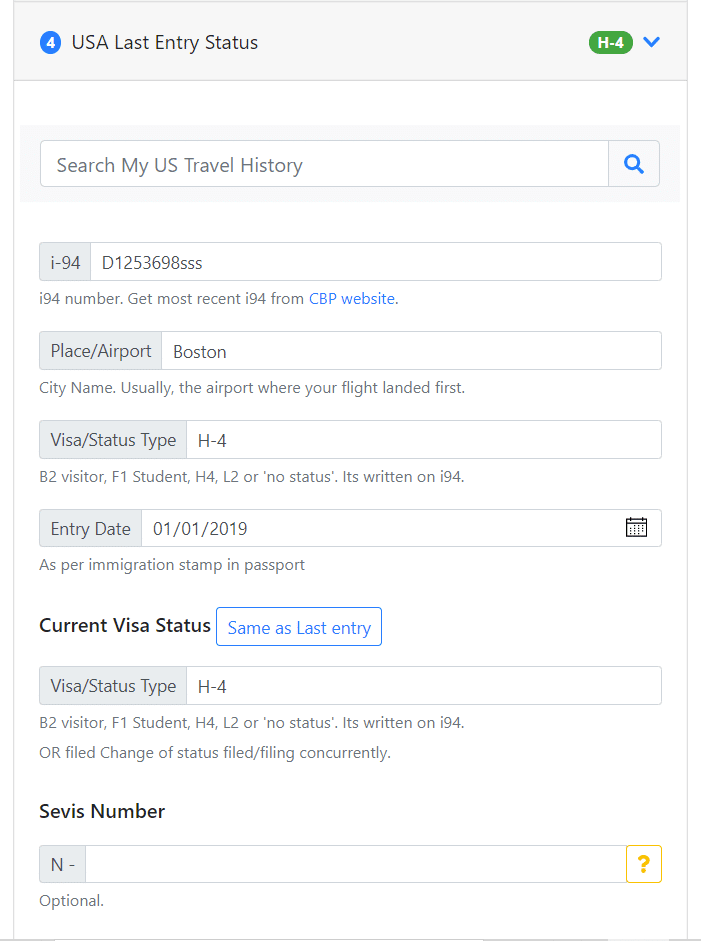 The last entry details can also be searched and entered quickly if you have ever filled it before on any other AM22Tech form apps.
You can easily copy the current status to be the same as the 'last entry' status by clicking the 'same as last entry' button.
Note that if your current status has changed because USCIS approved your change of status application after your last entry, you should enter the correct current status.
If your 'change of status' application is pending with USCIS at the time of filling the EAD form, you can write the 'last entry status' along with 'pending current status'.
Example:
You entered the US using an H4 visa but have now filed an H-1B application which is pending at the time of filing the i-485 EAD application. In this case, you can write these values:
Last entry status: H4
Current Status: H4, pending H1B Change of Status Application
#5 SSN Number with EAD application
An SSN number is allotted for life. If you have ever been assigned a social security number before, you should select 'I have SSN'.
The EAD form requires your SSN number if you already have one. The AM22Tech's app makes it optional to fill in the SSN number to protect privacy. You can write it by hand on the i-765 form when you have received it by email.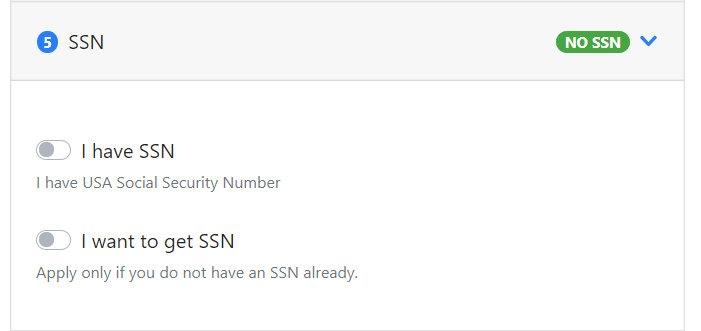 The USCIS EAD application form allows you to apply for a new SSN number along with your i765 application. Once USCIS approves EAD, they automatically send the information and pre-filled SSN application to the SSN office.
You will usually get the SSN after your EAD approval in about 4-5 weeks automatically.
#6 Alien Number (Optional)
You should enter the alien number on the EAD application if you have it.
You can leave this field blank if you do not know your A-number.
The A-number as it is normally called is assigned by USCIS if you have ever applied for an EAD or have an approved i-140 application.
Just enter the numerical part of the Alien number. The letter 'A' is added by the app automatically.

You can find your A-number at various places.
#7 USCIS number (Optional)
The USCIS Online Account Number is not the same as an A-Number (Alien number). Most people do not have it. You can leave it blank if you do not have it or do not know it.

If you have previously filed an application, petition, or any request using the USCIS online filing system (previously called USCIS Electronic Immigration System (USCIS ELIS)), your USCIS Online Account Number can be used here.
You can find your USCIS Online Account Number by logging in to your account and going to the profile page. If you previously filed certain applications, petitions, or requests on a paper form via a USCIS Lockbox facility, you may have received a USCIS Online Account Access Notice issuing you a USCIS Online Account Number.
If you received such a notice, your USCIS Online Account Number could be found at the top of the notice.
#8 Mailing & Physical Address
A physical mail address is required on the i-765 form along with an email and a phone number.
For most people, the mailing address and physical address will be the same and if it is true for you, you can select the 'My mailing address is same as physical address' option and the app will automatically copy it for you.
If your addresses are different, you should uncheck the option and then provide a physical address.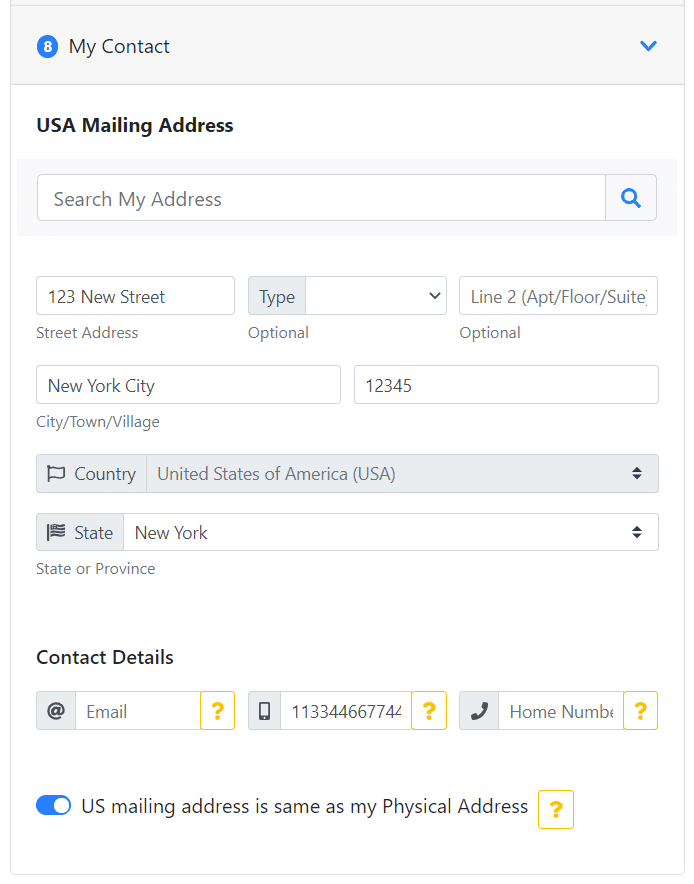 The USCIS will send EAD receipts to the mailing address only.
The app allows you to search and select your address and contact information if you have ever used AM22Tech's app earlier to make it easy for you.
We strongly recommend entering your mobile number and a valid email address to make sure USCIS can contact you if required.
If you have reached this step without any errors, you have completed all information required to fill out the EAD form.
Save and Fill Form
Click the 'Save' button if you want to save and return later to continue your application.
If you are ready to fill out the form, click the "Fill form and email (secure)" button. This will fill out your i-765 form and email it to you securely on your profile email.
This email is different than the email that you might have filled in on the i-765 contact information section.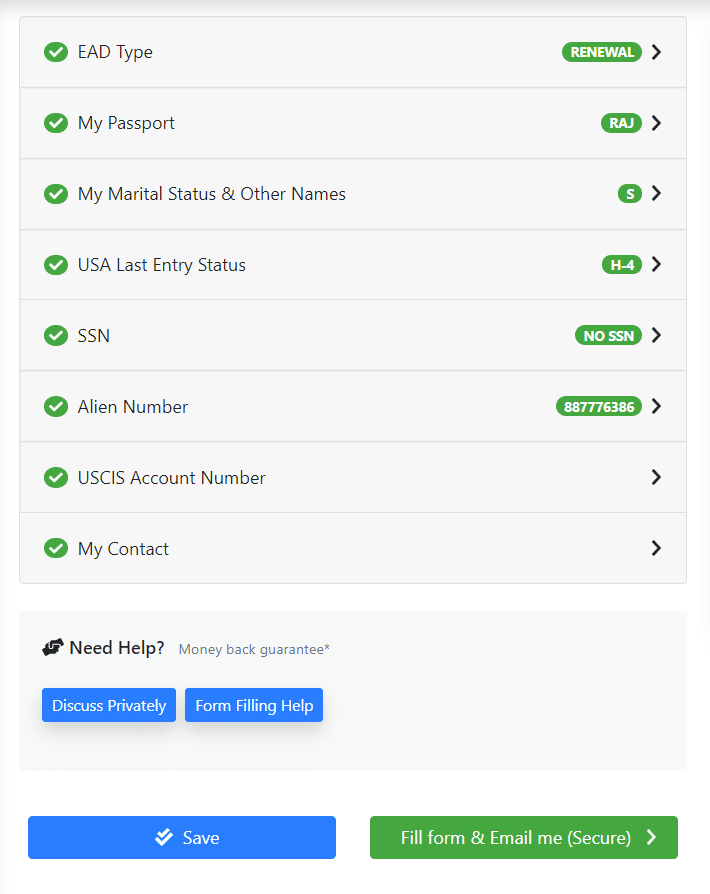 The app will validate all your information and show you the errors (if any) and ask you to fix them before you can generate the form.
If there are no errors, the app will mark each step with a green checkmark to show that the information is correct.
If there are errors, the app will indicate the step as an error and the error will be shown at top of the page.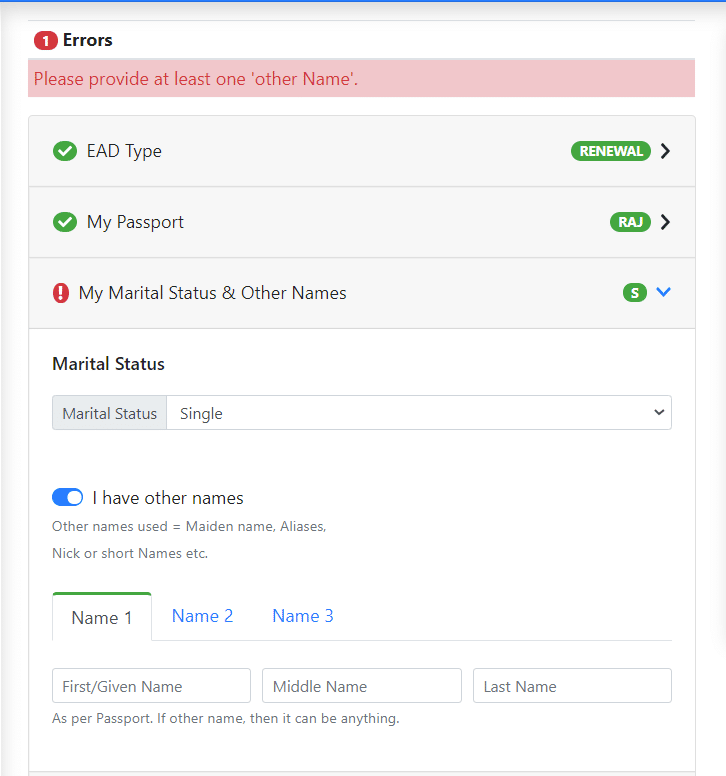 i-765 form Email
Once you have fixed all errors, you can pay and complete your order. If all the data is validated, the correct USCIS form will be automatically picked up by the app, filled out, and sent to you via your email securely.
You can expect the pre-filled i-765 form in your email within minutes with the instructions on the next step.
This is the email that we received and it has the pre-filled attached.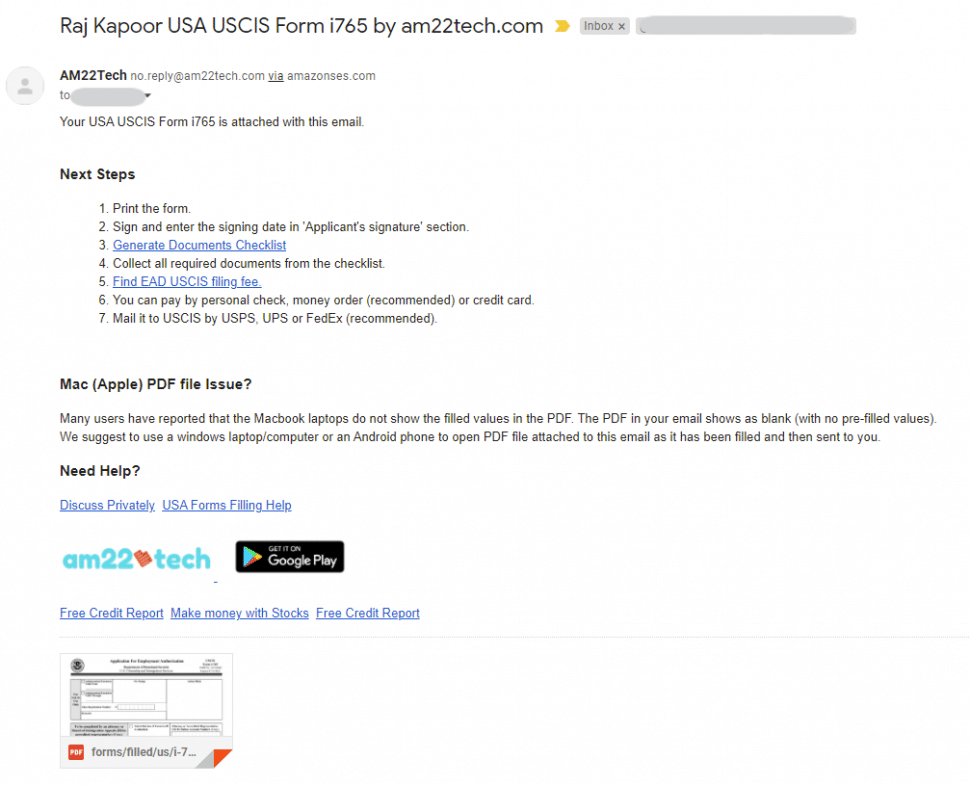 You can now download the form from email, and print it in color or black and white on A4 size white paper.
Do not forget to sign it and then send it to USCIS along with the correct application fee and other supporting documents.
That's it.
You just save money by applying EAD yourself as the app validated all fields to make sure there are no errors on the i-765 application form which greatly reduces the chances of application rejection.
Similarly, you can use the app to fill F1 OPT (or STEM extension) i-765 form too with our detailed step-by-step instructions.