How to Fill i485 supplement-J form for Green card?
File form i485-J supplement form after changing job on pending i485. Include 485j with Interfile request to USCIS California address.
AM22Tech Team
Updated 23 Jan, 23
i485 supplement-J form is a USCIS form to prove that the US-based employer is ready to offer you the job. It is needed in the following situations:
Job Change: You have changed jobs after your i485 was pending for more than 180 days.
Confirm Job Existence (or job offer):

You are interfiling to upgrade from pending EB2 i485 to EB3.
You are interfiling to downgrade from pending EB3 i485 to EB2.
Fill USCIS i485j supplement form
USCIS issues a receipt number for the i485-J form which can be tracked online on the USCIS case status website. The i485J receipt can take up to 2 months to arrive by USPS mail.
How to fill the i485-J supplement online?
The official USCIS i485J form is available for download online for free. You can download, fill and send it to the USCIS.
USCIS does not allow filing this i485J form online at this time.
You can also fill out this form using our helpful app and avoid any RFE or rejection as the app verifies every single detail that's required.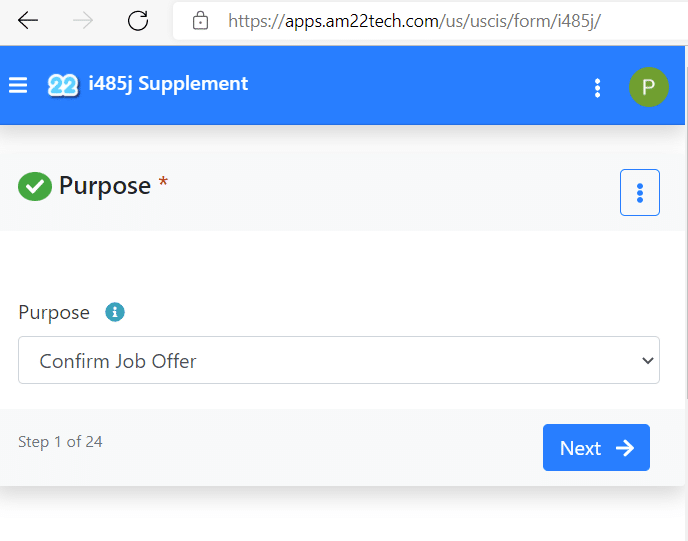 USCIS usually either rejects the form if you use the wrong version or fail to fill any required field. Our app handles all the options and does not let you complete it until you have provided all information correctly.
We also have a full refund guarantee if the form filled up through our app is rejected solely because of our app's mistake.
Details
This form has two primary sections:
Your details – The form requires your confirmation that you intend to join the job mentioned on this form i485-J.
Your employer details – The employer should confirm that the job offer exists as mentioned on the EB2 or EB3 i140 as filed by them. If you are porting your pending i-485 to a new employer, then the new employer's i140 is not required.
You can leave the job after getting the green card without any issue. Note that your intentions should be to join the job once you get the employment-based GC, but there is no need to keep working.
The USCIS approved this Green card in the good faith based on your i485-J.
You can join and change the employer anytime after you have got your Green card.
Documents Required
We suggest including the following documents with your supplement J:
EB2/EB3 interfile request cover letter
Primary applicant i485 receipt notice.
All dependent's i485 receipt notice.
Primary applicant's approved/pending i140 receipt.
Can USCIS automatically upgrade my EB3 to EB2 i140?
Attorney Cyrus Mehta has written in his article that USCIS does automatically do the interfiling process for cases where:
Both EB3 and EB2 i140 belong to the same employer and
Both EB3 and EB2 i140 are for the same or similar job positions.
He says that USCIS often approves the green card based on the category which is currently current but is not guaranteed.
Example:
You filed EB2 to EB3 downgrade in Oct 2020 with a priority date of Oct 2012.
Your PD date is currently in the EB2 Final action chart, but you have not filed the i485 with EB2 yet since your EB3 i485 is pending. In this case, USCIS should ideally approve your GC using your EB2 i140 automatically as both EB2 and EB3 i140 belong to the same employer and same job position.
In other cases where either the job position has changed or you have changed the employer, USCIS will need you to either refile i485 or request an interfiling with i485-J proof of job.
Interfile at USCIS California Address?
If you have already sent the interfile request to the USCIS service center, you can resend it to the California address along with i485J now.
If you want to interfile, we strongly suggest sending your i485-J form. It has two benefits:
USCIS issues a valid receipt number for the i485J form.
You can track the status online.
If you send the interfile letter without i485J, you will always be in guessing mode as USCIS will NOT send any acknowledgment of receipt. You will never get to know the status until they actually approve your Green card.
We compared interfile vs refile in this article earlier.
USCIS Guidance for i485J
You can file i485J and request interfile if:
You have continuously maintained eligibility for adjustment of status – Which means that you are eligible for a green card. Examples of maintaining status:

You can either be on H1B, H4, L, or another type of visa while waiting for the GC.

You can use your GC EAD while waiting too.
Use old EB3 EAD after requesting to interfile with EB2.

Your adjustment of status application based on the original Form I-140 is still pending – which means i485 should be pending for interfiling to work. Examples:

If i485 has been denied, then you can't do interfile.
If i485 has received RFE, then you can do interfile while you respond to the RFE.

You are eligible for the new immigrant category – You should be eligible for the new category you are requesting in your interfile request. Examples:

If you request an EB3 to EB2 upgrade using interfile, you should be eligible for EB2 separately.

You have a visa immediately available in the new immigrant category – The Green card date in the new category should be current in the visa bulletin's FINAL action chart. Example:

If you are interfiling to upgrade from EB3 to EB2, then your PD should be current in the EB2 Final action chart.
'Date of filing' chart cannot be used to submit interfile requests.
Child Age Lock
The CSPA (Child Age Protection Act) is extremely important in cases of interfiling.
If your child's age was locked using the EB3 final action chart and your child has NOW turned 21, we strongly recommend not doing interfiling.
This is because the CSPA law counts the child's age based on the attached i140.
If the EB2 i140 is still pending, then you may be able to deduct the 'number of pending' days from the child's age but if it is approved, the child's age may have already aged out if the EB2 final action date got current after your child turned 21.
You may want to check the CSPA age protection using this app and find out if the age will be locked or not.
Should New Employer Interfile?
There are many situations where you may have changed the job after filing EB2 to EB3 downgrade.
Example:
Company A holds EB2 i140. Company A filed EB2 to EB3 downgrade.
You changed employer and joined company B using i485 after 180 days rule.
Now, you want to interfile and request EB3 to EB2 upgrade while working for company B.
Options:
Interfile with Company A: You can request interfiling but Company A would need to sign i485J for you since they hold your EB2 i140.
Interfile with Company B: You cannot request interfiling with company B unless they first file their own PERM + EB2 i140 and get it approved.
FAQ
When should I file form i485-J?
You can file the i485-J form anytime you have moved on to a new employer.

Many people wait until they get the i485 interview call and then take this i485-J form duly signed by the employer to save time.
Which USCIS address should we send the form i485-J supplement?
You should send the i485-J supplement form to the USCIS office in California:

Attn: I-485 Supp J
U. S. Department of Homeland Security
USCIS Western Forms Center
10 Application Way
Montclair, CA 91763-1350
What is the filing fee for i485-J?
There is no USCIS filing fee for form i485-J.

Note that if you use attorney service, they will most probably charge about $500 per application as their own service fee.
Can I send form i485-J myself to USCIS?
You can fill and send the form i485-J yourself to the USCIS but the form does need the signature of your employer's authorized representative.

If you send the form without the employer's signature, USCIS will reject your form and may deny your Green card i485 application too.
Can I keep using my EB2 i485 EAD after interfiling with the EB2 upgrade request?
Yes, you can keep using your EB3 i485 EAD card after interfiling.

Similarly, you can use your AP card (advance parole) card as well.
Is i485J required for family dependents?
i485J is not required for family members who are dependent on the primary applicant.