USCIS H1B Site Visit – Is Call on Phone a Scam? Real-Life Case Examples
USCIS H1B site visit for verifying employer ID card, physical work location, daily work assignments. Interview over phone in Coronavirus, email documents. How to avoid scams.
AM22Tech Team
Updated 3 Aug, 22
USCIS H1B site visit is performed physically to verify the H1B or L visa work location and real work.
USCIS's FDNS department conducts these surprise visits for people who are deployed at client work locations.
H1B Full-time employees can also expect these visits.
USCIS H1B Site Visit in CoronaVirus
Many people have reported that they have received calls from USCIS (or at least the person says they are from USCIS) and asked to furnish H1B approval details.
This is a very serious matter as it is difficult to differentiate between fraud and genuine calls.
USCIS call over phone Experience 1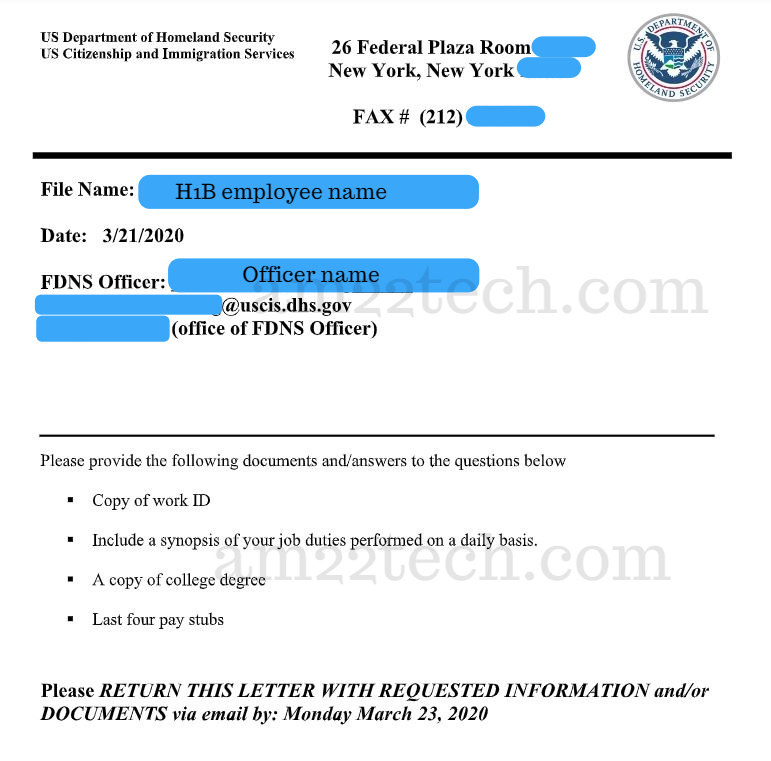 One of our guests had reported privately that a USCIS FDNS officer contacted the employer and then called the H-1b employee directly over the phone instead of visiting the office physically during Coronavirus emergency week.
USCIS fraud detection officer asked about the Job description, supervisor, salary, and work location over the phone.
The officer then asked the H1B employee to submit these documents via email directly to the officer:
Copy of work ID card
List of job duties performed on a daily basis.
A copy of my college degree
Last four pay stubs
Is H1B Amendment required (App)
USCIS call over phone Experience 2
Another guest shared her experience on one of our WhatsApp groups.
In her case, the interesting thing is the USCIS never contacted the employer and informed her about the site visit or the phone call directly to the employee.
Read here experience here (we have hidden information that's personal):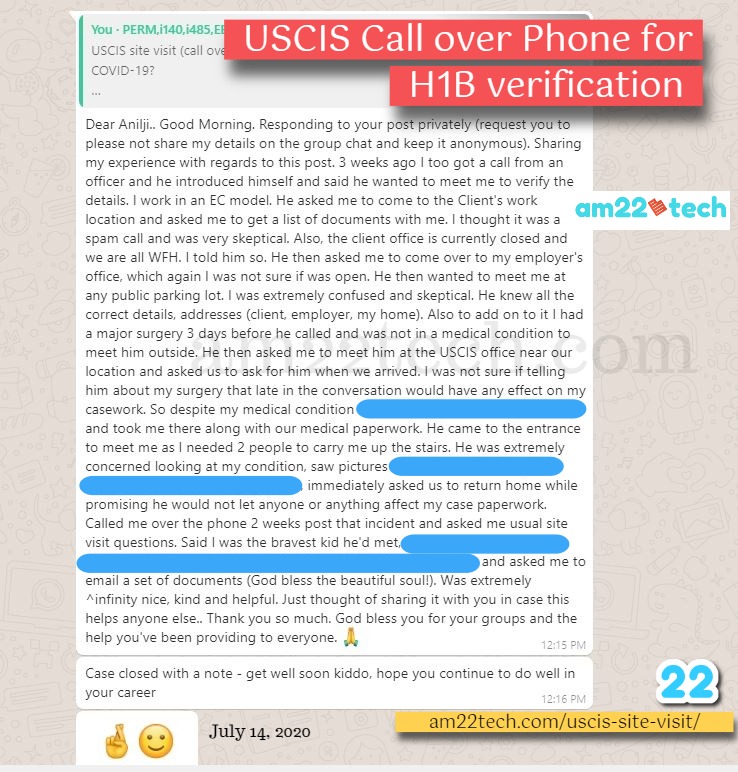 She was quite vigilant and hence pushed for meeting him at the nearest USCIS office. This is the safest option to protect your own identity.
You should also meet:
At the nearest USCIS office.
At the H1B employer's office (office may be closed due to COVID-19) – avoid it.
At public places like Walmart or public parking (do it only after you have verified the officer's email address and identity).
On Mar 17, 2020, the Law firm Berry Appleman & Leiden (BAL) confirmed to Forbes in one of the articles that USCIS will not conduct H1B site visits if the employer has closed the office.
Since then, USCIS has made multiple changes and has closed all personal contact services even for cases where the employer's office is open.
FAQ
Should we answer H1B Questions if we get a Direct Call from a USCIS officer?
USCIS officers do not call H1B workers directly over the phone normally. They usually first contact the employer.

In the example case, the officer first contacted the H1B employer and then called directly on the employee's phone.

The employee was not aware of the officer and thought that it might be a scam call.

The employer should have notified the employee about this situation so that the employee would expect any such call.
Should I email my H1B documents if Someone requests to send them by email?
The first thing to do is to contact your attorney and share the information about this USCIS officer's call. If the employer has not been notified first, then it most probably is a scam call.

You should send your H1B documents to someone who can be legitimately verified.

Ask them to send you an email from their official USCIS email address.
The official email address should look like FIRST-NAME.LAST-NAME@uscis.dhs.gov

Do not email your documents if you cannot verify the USCIS email address.
Does the phone call show the official USCIS number?
The phone call number may not show the USCIS's official name. You need to be extra careful while disclosing any of your personal or work information over the phone.

You should first clearly ask the officer to identify himself with his name, ID, and USCIS email address.

You can politely say that you need an officer's information to protect your own Identify theft.
USCIS Officer Questions – Physical Visit
The officer normally asks you to show your employer ID card, and physical work location, and speak about your daily work assignments.
You may be asked to log in to your computer and show what software you use to perform your daily job. Your client manager may be asked questions about your work too.
#1 Questions About H1B
What is your present full-time employment location?
Name and address of end client;
Which other location do you visit for meetings and training?
What is your hire date? What day did you start working at the end client's location?
What is your position title?
What are your duties?
How many hours per week do you work?
What is your work schedule?
#2 Work History Questions
Name of the company you worked for in the past.
What were your position (s)/ title?
Work location.
How long?
#3 Education Questions
What institution of higher education did you attend?
What was your educational major?
What years did you attend and when were you awarded your degree?
What Can Happen After USCIS Site Visit?
You should be very careful in answering questions about your client manager's role in giving daily assignments, hiring and firing decisions, and performance appraisal if you are working at a client site.
Remember that a person on your H1B employer's direct payroll should have all these powers for you and not your client manager.
Whatever you show and speak is recorded and then compared with what is written in your H1B application.
If there is a serious mismatch found between what you are doing and your approval, the officer can recommend revoking your H1B which essentially means issuing NOIR.