Documents for H4 Biometric Appointment, Steps, Child Sign
H4 Biometric Appointment with H1B premium processing in 3-15 days after fingerprints. Use H4 physical address for nearest center. Reschedule allowed. No refund.

By Anil Gupta
Updated 2 Mar, 20
Documents Required for H4 Biometrics
Biometric appointment notice (Form I-797C)
Valid photo identification – Original – Green Card, Passport, US driver's license or State ID card
H4 EAD Processing Time After Biometric
H4 EAD is taking 60 to 180 days to get approval after biometric. H4 extension is also processed at same time as H4 EAD.
H1B, H4 and H4 EAD filed together in premium will get H1B approval within 3-15 days. H4 and H4 EAD are being moved to regular processing queue after bio-metrics are completed.
H4 Biometric appointment is scheduled after an average of 17 to 20 days from the date of filing. H4 Biometric appointment experience says that you can expect appointment letter after 8-30 days of filing H4 application.
Appointment letter will be issued irrespective of whether H1B is approved or H1B gets RFE. You should attend the fingerprinting appointment in both cases.
Is Biometric Required for H4 EAD?
Biometrics are not required if you are filing only H4 -EAD application alone.
If you are filing both H4 extension and H4 EAD, then H4 extension needs biometric fingerprints.
Is H4 Biometric Required for Child?
Biometric is required for everyone including child of any age.
Kids older than 14 years have to sign themselves at Biometric center.

Children younger than 14 are not required to sign themselves at ASC center. A parent can sign.
How long does Biometrics Process take at ASC?
Biometrics fingerprinting process takes about 10 minutes to finish at ASC center.
Are walk-ins allowed at Biometric ASC center?
Walk-ins are allowed at USCIS ASC center as long as as you have an appointment letter. You can visit earlier than your appointment date and preferably between 2 PM to 3.30 PM as the ASC centers have less traffic during this time.
Can I visit ASC center close to my home than Appointment?
You can visit any ASC center closer to your home irrespective of the center where the appointment has been fixed.

One user shared that they gave fingerprints by walk-in to an ASC center in California even when her appointment was set up at Dallas center.
Can H4 attend Biometrics in India?
The Biometrics for H4 extension filed using form i539 should be attended within USA at this time.
H4 Biometric Appointment i797C Form
There is no separate USCIS biometrics form. You just fill the H4 extension form i539 and USCIS automatically creates an appointment for you.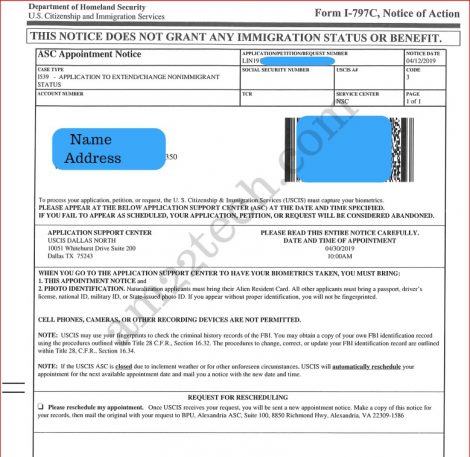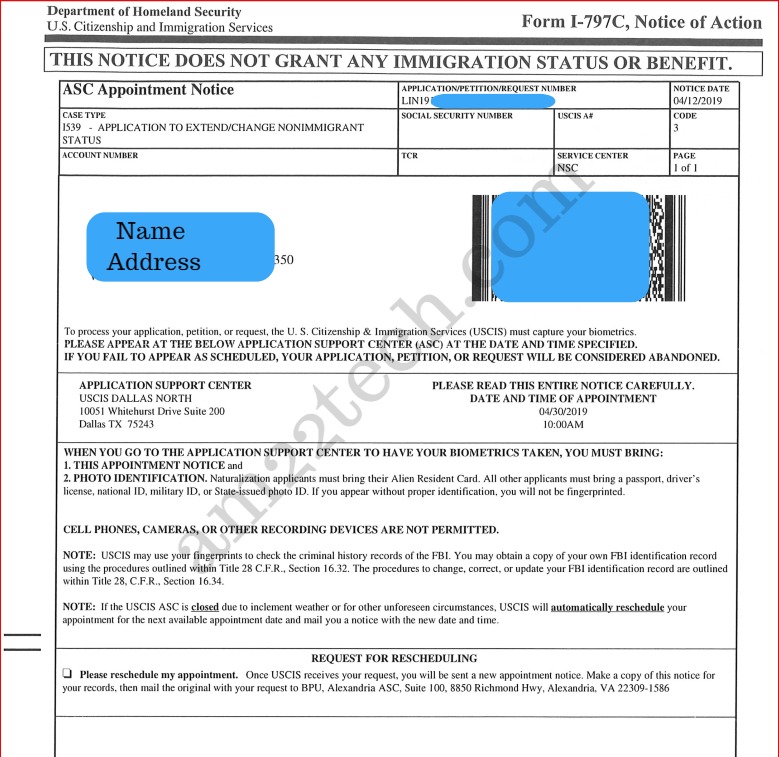 Your appointment notice (Form I-797C, Notice of Action) will include the date, time and location for your ASC (Application Support Center) appointment.
There is no dress code for Biometrics. Cell phones are not allowed inside ASC center and should be left in your car.
What Happens at Biometric Center?
You need to fill an application information worksheet at the Biometric Center which has name, DOB, eye and hair color, height and weight.
You are given a token number. Wait for your turn and then they click your photo and take finger prints. Make sure that your signature matches the one you did on your form i539 while filing the application.
They stamp your biometric appointment letter once process is complete as a proof. The status on USCIS site may change to 'Fingerprint Review was completed'.
This stamped letter can be used in your child's school leave application as a reason for taking off.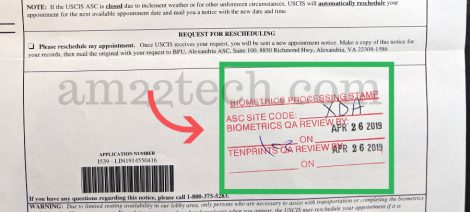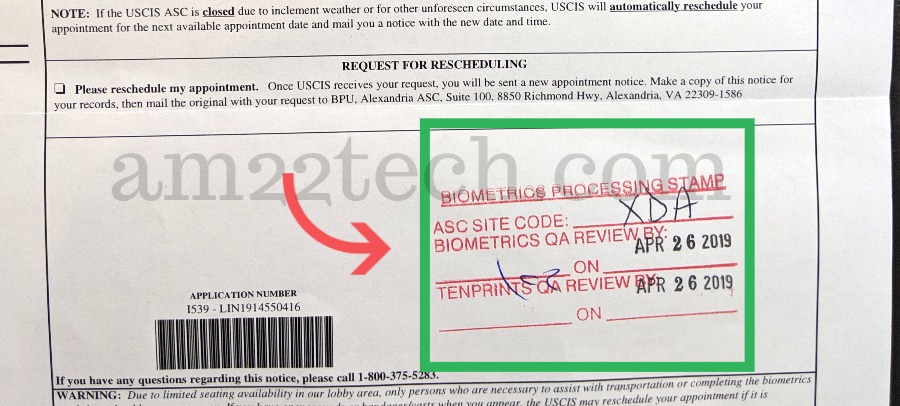 Difference between H4 Biometrics and H4 Stamping Fingerprints
H4 Biometrics is a new process started by USCIS starting Mar 22, 2019 in US for people who file H4 extension. H4 visa stamp fingerprints is an existing process for all visa applications filed with US embassy.
Reschedule Biometrics Appointment USCIS
You can choose to re-schedule the H4 extension Biometrics appointment if the ASC center is too far from your home.
We have seen that people are receiving appointment at a center which is somewhere in state IL, 10 hours drive from whereas the person is physically located i.e. in Tennessee.
This could happen if your attorney used his OWN address instead of the H4's physical address to fill form i-539.
USCIS Biometrics Fees Refund
There is no USCIS biometrics fees refund if you do not appear for your fingerprints appointment.
You can only re-schedule your appointment without paying new fees of $85.
Reference: USCIS