USCIS 90-Day Rule, Enter on Tourist Visa (then Marriage/H1B)
File Change of Status after 90 days to stay on safe side. Enter on F1, B2 then i485 Green card Marriage or H-1B work visa. Prove intent in GC interview.
AM22Tech Team
Updated 9 Aug, 22
Many people who are stuck in India are thinking of coming to the US using either an F1 or B1/B2 visa and then filing an H1B change-of-status application.
Family-based Immigrants usually follow this path to cut the waiting time.
Legally, you can do it but I do not suggest it as filing a change of status within 90 days of entering can be flagged as fraud and investigated.
If you do go ahead with this plan, our suggestion is to file H1B COS after 90 days of entering.
What is 90 Day Rule?
The 90-day rule means that you cannot change your intention of staying in the USA within 90 days of entering.
Example:
B2 to H1B: You use a B2 visa to enter the US and then file an H1B-COS application after 30 days to start working. This is a change of your intention of staying in the USA from a tourist visa to a work visa.
F1 marry US citizen: You use an F1 study visa to enter the US and then marry a US citizen within 60 days. This is considered a change of intent and may be investigated for marriage-based immigration fraud.
The onus of proving your genuine intentions will be on you as DHS will automatically assume that you lied at the time of entering the USA.
How to Count 90 days?
Add 90 days to your entry date mentioned on the most recent i94.
Example:
In this i94 for H4 visa holders,
The date of the first entry is mentioned as June 1, 2018 (red color). You should add 90 days to June 1 to reach 1 Sep 2018.
The Oct 1, 2019 date is the expiry date of this i94.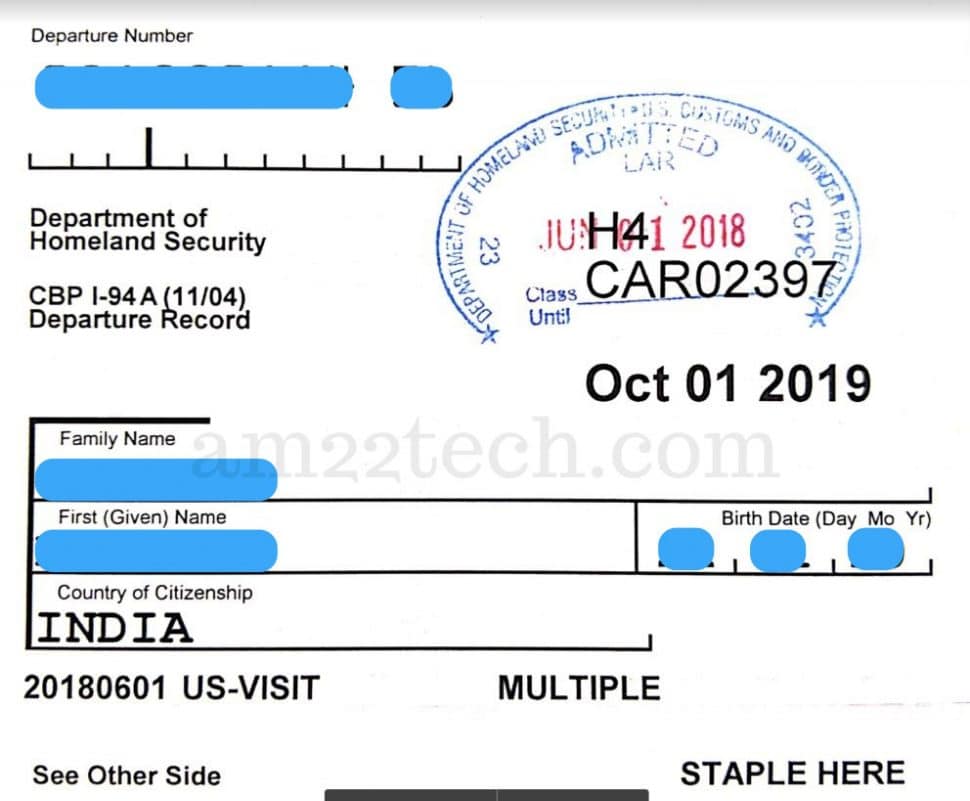 To be on the absolutely safe side, we suggest you add a buffer of 5-15 days too. This means that add about 95 to 105 days to your entry date instead of 90.
90-day Rule in COVID-19
USCIS has not given any relaxation with respect to the 90-day rule in Coronavirus emergencies.
There are many people stuck outside the USA who cannot travel back to the US as US embassies are closed.
Some people are thinking of using another 'single intent' valid stamped visa to return to the US and then file an H1B change of status to start working as early as possible.
Example:
F1 to H1B: Enter the US using a valid F1 visa. You will need to enroll in a university and should have a valid course enrollment and your 'intent' should be to study and not change to H1B at the time of entering the USA. Be careful about what you say.
B1 to H1B: Enter the US using a valid B1 visa and then change over to H1B after 90 days. You will not be able to work or run your payroll like you would have done on H1B.
B2 to H4: If your family is stuck in India with no appointments available for an H4 visa, you can call them to the US on a valid stamped B2 visa and then apply for B2 to H4 COS after 90 days. There are chances that the CBP officer might not believe it as the primary spouse is in the US on an H1B visa but if you are ready to take the risk, it's an option.
B2 to Green Card: You can file B2 to the i-485 green card application while you are in the US after 90 days. This is helpful if the US embassy is currently closed for immigrant visa appointments.
Risks of COS After 90 Days
USCIS and DHS rule:
Filed COS within 90 days: DHS assumes you have intentionally misrepresented and committed fraud.
Filed COS after 90 days: DHS assumes your situation may have changed. But, your case is still looked at with suspicion.
If the USCIS investigation finds fraud, your visa will be canceled and you may be barred from entering the US.
Exceptions to 90-Day Rule
There is no exception to the 90-day rule except in some specific cases with dual intent visas. USCIS's decision is considered final.
We strongly suggest waiting for at least 90-105 days before filing any change of status application.
Example:
You may have to prove your 'intent' in the i485 adjustment of the status interview. If your spouse's urgent medical attention is the reason for your overstay, you will need to prove it with a doctor's official letter as suggested by immigration attorney Anjana Prasad on Boundless.
Single Intent vs Dual Intent Visa
Most US visas are 'single intent' visas meaning that their purpose is clearly defined.
If you enter the US with a particular visa type and then file a change of status application to move over to a new visa type within the first 90 days, you are considered to have misrepresented or lied to a CBP officer at the US port of entry.
A B2 tourist visa can only be used for leisure activities in the US whereas an F1 visa can only be used to study.
There are some exceptions like the H-1B work visa which allows 'dual-intent'.
Your intentions are doubted and DHS can send your case for fraud investigation to USCIS.
In some cases, it has been seen that your B1/B2 or F1 visa application can be rejected if someone from your close family married in the US and never went back to the home country.
One such classic example is of two sisters:
One of them came to the US on a B2 visa and married a US citizen.
Although there was no action taken on this person's marriage, her sister's F1 visa application was repeatedly rejected by the US embassy in Delhi with a 214B denial.
90 vs 30/60 day rule
USCIS replaced the 30/60 rule with the 90-day rule in 2017.
Earlier,
The 90-day limit used to be 30 days to 'assume' the change of status application as fraudulent.
30 to 60 days' time was counted as a suspicious application.
Any application filed after 60 days was considered to be legitimate but still could be investigated for fraud.
The 90-day rule is strictly implemented in case of marriages.
FAQ
Does the 90-day rule apply to adjustment of status cases?
The 90-day rule applies to all adjustments of cases filed for US green cards.
Can I enter the US on a B2 visa and marry a US citizen?
You can legally enter the US on B2 and marry a US citizen. But, the safest option would be to marry after about 100 days of staying in the US.

The problem you might face is the maximum time allowed to stay in the US might be lower than 90 days.
When does the 90-day clock reset?
The 90-day clock resets on each new entry to the USA.

Example:
If you stayed in the USA on an L-1 visa for 120 days and then returned using a B1 visa for a business meeting, your 90-day clock will restart as and when you make an entry using a B1 visa.
Why are 90 days rule a problem if I have multiple valid stamped visas?
Each US visa is given based on your intention or the purpose to visit the USA.

The 90-day rule tries to make sure that you adhere to your intentions on your visit. This has been done to protect the US from visa fraud.