i485 Adjustment of Status Document Checklist (Employment-Based)
List of documents for filing employment based i485 adjustment of status green card application in USA. FBI clearance, Hindu, islamic marriage certificates, passport.
AM22Tech Team
Updated 14 Jun, 21
Are you ready to file an i485 application for a green card? Here is a complete list of documents that you will need to get Green card approval.
Generate document checklist using our app >
This article will discuss:
Documents Required
Forms
#1 Form I-485 – for Green card
This form is called 'adjustment of status' because you are asking USCIS to change your status from a current visa like H1B or L to a permanent resident (Green card)
#2 Form I-765 – for Employment Authorization
Fill USCIS i765 EAD form Online with our App >
You are eligible to file i-485 EAD along with your green card application.
This is the same form as you may have used for filing H4 EAD.
#3 Form I-131 – for Advance Parole
Fill USCIS Advance Parole Form Online >
AP or Advance parole is used to return to the US instead of your H1B or L work visa while your i-485 is pending.
You may use the advance parole for returning to the US but there are some important points to consider before you take this step. It affects your ability to return back to H1B, L1, or K visa status.
The i485 denial should also be kept in mind while making a decision to use advance parole.
#4 Form I-693 (Medical Report)
This form is required to be filled by your doctor (should be accredited by USCIS) to certify your health.
Here is the complete step by step process, costs, and issues for the USA green card medical test.
They will check your TB (tuberculosis) and other such communicable disease presence and your Green card can be denied if you have a medical issue.
Fill i-693 form easily before visiting Doctor's clinic >
You can find a doctor in your area using USCIS doctor search facility.
The doctor will issue the report in a sealed envelope and it should be submitted to USCIS as it is (without opening). If you open it to see your results, your report will not be acceptable by USCIS.
You can avoid filing form i693 and save the doctor's fee if you think that your PD date will not get current in the next 24 months.
The doctor's report is only valid for 24 months.
USCIS will send an RFE as and when your date is current and then you can submit this form i693.
#5 I-140
You will need to submit your approved i-140 i-797 copy.
If you are waiting for your i140 approval, you can upgrade it to premium to save time.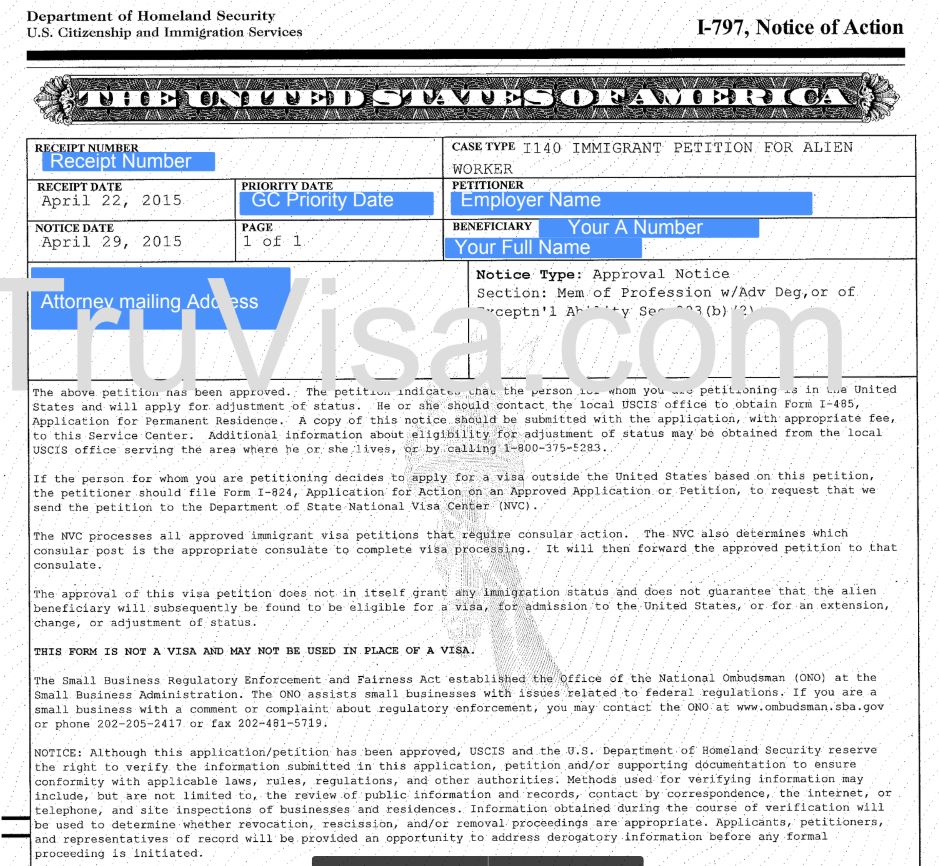 I140 can be filed concurrently with i485 too after your PERM approval.
#6 Supplement J (Optional)
Confirmation of job offer (on Form I-485 Supplement J) if you have changed the job after filing i485.
#7 Form I-864 (Optional)
Affidavit of Support form is required for all dependents in your family that you will support with your income.
#8 Form G1145
This form is for getting notifications as soon as the USCIS accepts your application. They send an email and a text message on your mobile if you send this form.
Fill G-1145 Form online using our app >
We strongly recommend to fill this form and keep it at the top of your application bundle.
Personal Documents
Personal documents are required for each member of the family separately.
#1 Birth Certificate
You will need your birth certificate in English.
It should have been issued by the relevant government authority from your country of birth.
What to do if Birth Certificate is not available?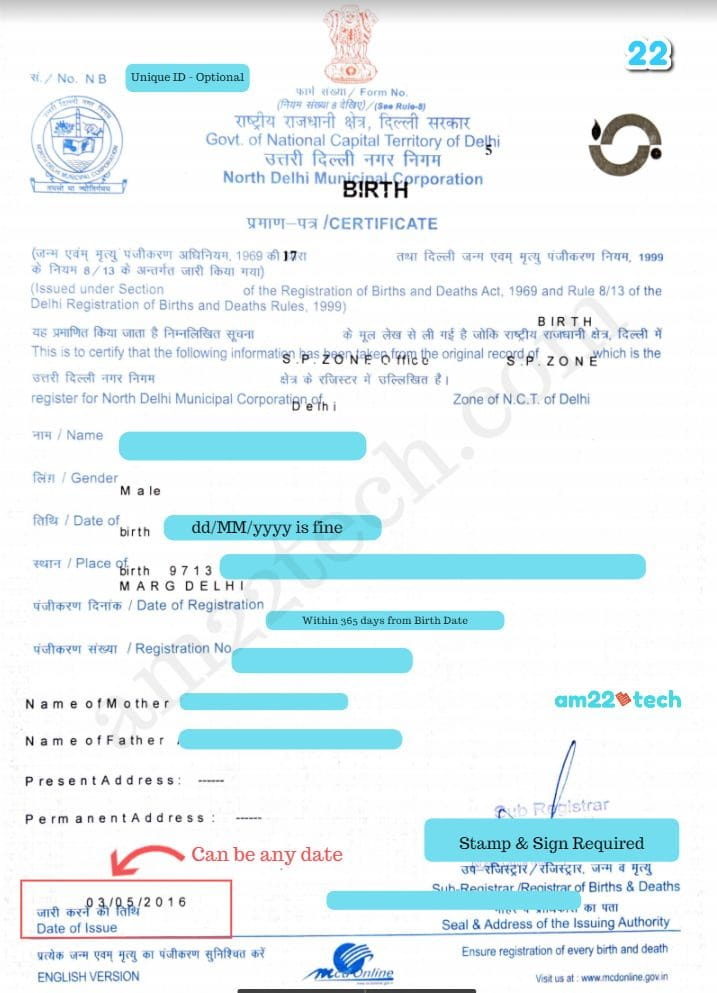 You will need to get it translated to English and notarize if it is in other languages like Chinese, Hindi, Gujrati, etc.
The name field is blank on my birth certificate?
You can write the name on the birth certificate by hand. This usually happens in countries like India where electronic computer-generated certificates are being issued these days and they have no record of the name from the past.
You can write the name by hand on the computer-generated birth certificate.
If unavailable or does not exist, provide other evidence of birth such as
church certificate
the school (like Class X mark sheet in India), or
medical records, and
proof of unavailability or nonexistence, if applicable – get a letter from your home country authorized government agency that a birth certificate cannot be issued.
#2 Passport
Your most recent valid passport copies (all pages including blank) are required.
Your old expired passport copies are required only if they had any US Visa stamps. Blanks pages for old expired passports are not required.
Copies of any lost or stolen passport are required too if you have them.
Copy of your passport that was used to enter the USA anytime in the past.
I always recommend to keep a scanner at home and scan and save everything for that rainy day.
#3 All prior i-94 copies, i-797 approvals, I-20, EAD card, Passport
Collect all prior i94 copies.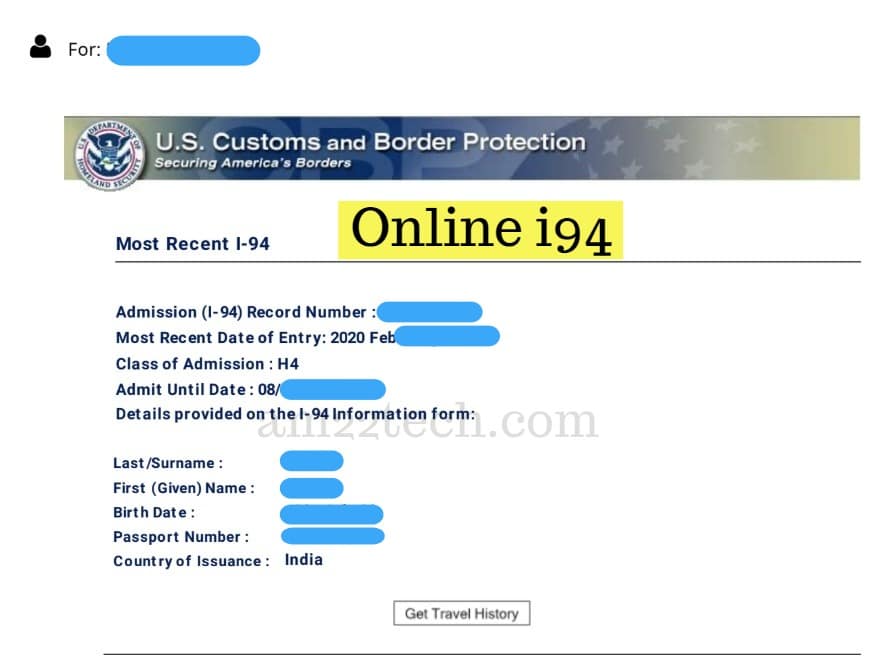 Online i94: Most i94 copies can be downloaded from CBP i94 website. If you ever entered the USA through a land border in Mexico or Canada, then you may have paper i94 too. This is generally updated online on the CBP website.
Paper i94 copies may not be available online. You will find them attached to your i797 approvals.
#4 Six (6) passport-style photographs
RN Law Group recommends submitting 6 Passport size photos clicked within the last 30 days as per US size (2×2 inch).
2 Photo for i-485 (Green Card)
2 Photo for i-765 (EAD)
2 Photo for i-131 (Advance parole)
You can reduce the number of pictures if you are not applying EAD and AP with your i485.
This is same as you would have got for US visa application. Your photos and fingerprints will also be taken at USCIS ASC Biometric center.
You can get these pictures clicked at Sams Club, Costco, Walmart, CVS or Walgreens. Passport photos online would be a cheaper option as compared to a retail store.
#5 Driver License
Copy of current valid driver license.
#6 Health Insurance Coverage
If you are currently employed, then you probably will have health insurance coverage from an employer's preferred provider like United HealthInsurance, BCBS, CVS Atena, etc.
You can use your health insurance card generally issued around December every year to prove you and your family are enrolled in it.
#7 IRS Tax Transcripts
You can download IRS tax transcripts free of cost from the IRS website online. You only need the most recent tax year's 'return transcript' to send with your i485 application.
Attorneys also recommend sharing the last 3 years' W2 and IRS tax return (1040) too to prove that you have been paying income tax on time but it is optional if you are sending tax transcripts.
Spouse & Dependent Documents
You need to provide all personal documents as mentioned above for your spouse and each kid separately.
Additional documents required for dependents:
#1 Marriage Certificate
A copy of your marriage certificate is required for spouse.
Check what all proofs can be used for Indian marriage (Hindu, Islamic style, etc.).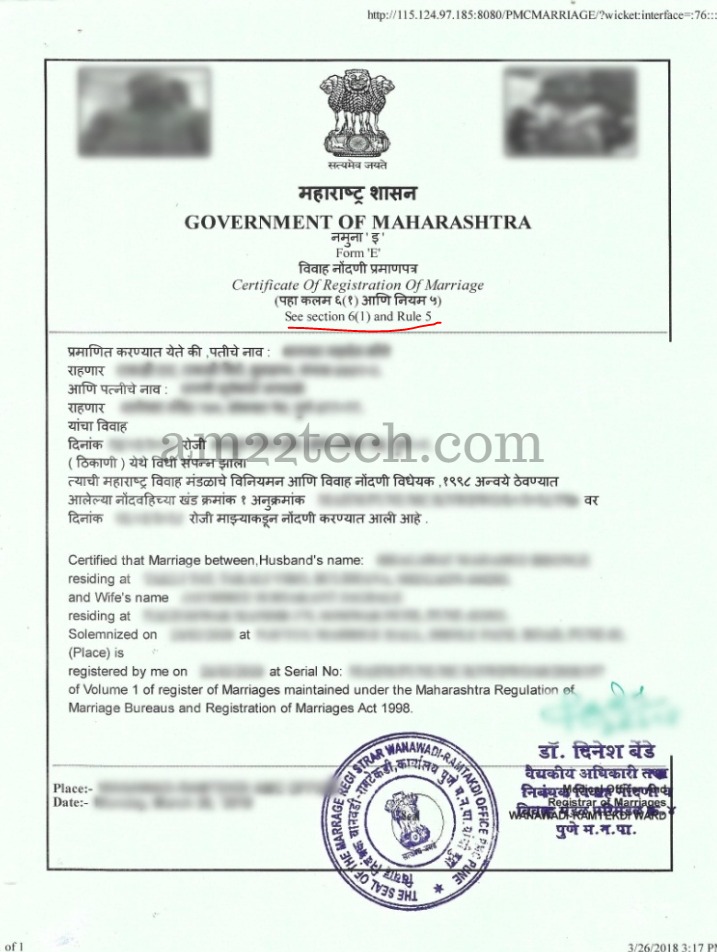 #2 Child Relationship Proof
Proof of relationship as a child to the principal applicant is required.
A child's BIRTH certificate can act as proof of the family unit if it has a father and mother name.
Child's passport, if mentions that parent (applicant) name can be used as evidence of the family unit.
#3 Divorce Certificate (if Any)
Get free divorce Consultation by lawyers.com if you are thinking of separating before getting a green card!
Optional Documents
You should talk to your attorney to know if these are required for your case. There is no harm in adding them to make your case stronger.
#1 Credit Report (recommended)
Since the advent of the public charge rule, many attorneys have also started to include credit history report also to prove that you have financial stability.
You can get your credit history report showing your most recent (last 12 months) from any one of the primary agency through annualcreditreport.com:
Experian
Equifax
TransUnion
You can get a credit history report from Credit Karma for free.
How to get a free credit history report?
If you have recently applied for an auto loan, mortgage, rental apartment, an internet connection, or any service that has used your SSN to make a hard inquiry on your credit history, you are eligible to get a FREE credit history report within 60 days of that inquiry.
You will receive a postal mail as per law which will tell you how to claim that free report. Note that the Fair Credit Reporting Act allows only 1 report per year.
#2 Bank Statements (recommended)
Get your checking and saving bank statements officially from the bank with a stamp and not the ones generated online.
You can also request a Bank account verification letter which is normally used for visa stamping. This should work if you are not comfortable sharing the detailed transaction statements.
Savings/Checking bank statement
Home Ownership Documents
LLC documents (if you opened any) or used earlier
Foreign bank account details (owned and operated in your name in the home country or others)
It is suggested that you also include your stocks and real estate ownership (US or home country) documents to prove your financial worth.
#3 FBI clearance report (optional)
You can apply for an FBI clearance report online using this step by step process.
You would need to fill form FD-258 for fingerprints and send it to FBI.
#4 State Police Clearance (optional)
Each state in the USA has its own process to issue a police clearance certificate.
We have listed process for two states here as example:
#5 Police clearance from home country (Optional)
If any court case is pending or an active police investigation in the home country.
Examples:
Apply for Indian PCC from Indian Embassy in the USA (for people living in the USA) – takes about 4-6 weeks.
Apply Indian PCC with Passport office in India – 1 day if the current address is the same as printed on the passport.
Traffic Tickets
Should I mention my traffic tickets on the i-485 application is a common question and here is the answer.
Unless the traffic incident was alcohol or drug-related, do not include incidents where you were not arrested and the only penalty was a fine of less than $500 and/or points on your license.
| | |
| --- | --- |
| Traffic Citation | Include on i-485 |
| Drug/Alcohol-related (DUI) | YES |
| I was arrested | YES |
| Speeding, Red Light, other tickets MORE than $500 | YES |
| Speeding, Red Light, other tickets LESS than $500 and/or points | NO |
Another important detail required on i-485 form is about arrests.
Have you ever been arrested or detained by any law enforcement officer for any reason?
What was the reason for the arrest or detention?
What law enforcement agency performed the arrest or detention?
When did the incident occur and how old were you at the time?
Were charges filed against you? If so,

What was your plea?
What was the disposition of the case?
When was the final order entered?
Please provide all documents in your possession.
i485 Processing Time
Check or estimate your current i485 application processing time (time to get green card approval) if you file today:
FAQ
Do I need a police clearance certificate even if I never had any police case in the USA or home country?
A police clearance certificate or FBI clearance is completely optional.

Talk to your attorney to know if they think your specific case needs it or not. Most people do not need it unless they have any criminal history.
Do I need State Police clearance certificate if I have got FBI clearance?
The state police clearance is a separate document from FBI clearance.

You should talk to your attorney to find out if state police clearance should be sent with your application package or not.

Most people do not need it unless they have any criminal history.
Can I file i485 if I am currently outside USA and my date is current in 'Date of filing' chart?
You cannot file i485 from outside the USA.

You should be physically present in the US to file an i485 adjustment of status application.

The 'Date of filing' chart can be used only if you are in the USA.
How can I get green card if my PD date is current in 'Final Action' chart and I am currently outside the USA?
You can file a DS260 immigrant visa application at the US embassy if your employment-based PD date is current in the 'Final action' date chart.
I already filed i485 and have EAD, my PD is current in the current bulletin, Do I have to get the police certificate?
You should have already filed the clearance certificates earlier.

If USCIS needs new certificates, they will send an RFE.

In most cases, USCIS sends RFE to submit a new medical clearance certificate.
Is public charge form i-944 required for i-485 filing?
USCIS has removed the form i944 starting Mar 2021 and the public charge form is not required to file i-485 application now.
Source: USCIS i485 Checklist