Is Mexico FMM (Tourist Permit) Required for US Visa Stamping (or i94 extension)?
Mexico tourist permit (FMM) should be taken on each entry to Mexico by land or air. Ivisa.com permit is not valid until stamped by immigration at border.
AM22Tech Team
Updated 19 Jan, 22
US visa stamping in Mexico is allowed and we are going to cover the requirement of a Mexico Tourist permit (known as FMM) and Mexico visa in this article.
What is Mexico FMM?
Mexico tourist permit is known as Forma Migratoria Múltiple (FMM) and is given free of cost for 7 days. The one for 180 days costs approximately USD $30.
Many people crossing the border by land for US visa stamping never take the Mexico Permit. The funny thing is that there is no immigration checkpoint and you can just walk into Mexico.
They assume that it is your responsibility to go inside the border immigration office, fill out the tourist card, get the Mexico Entry stamp in your passport, and get the FMM card (Mexican equivalent of US i94).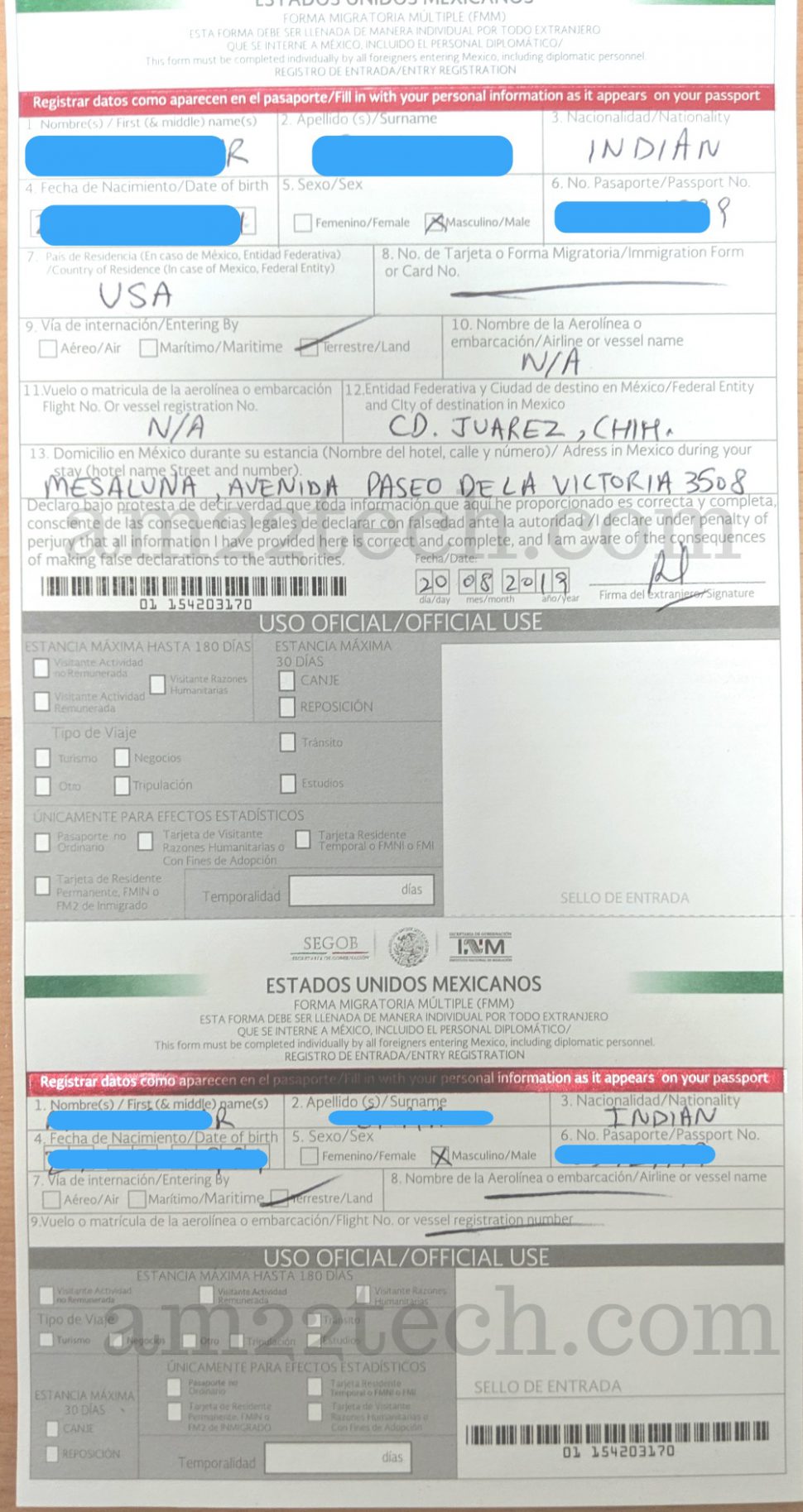 Since there are no checks by Mexican authorities at a land border, people in the US take it for granted and just never bother to get the FMM card on their entry to Mexico.
This works fine as long as you have allowed a visa stamp and can go back to the US using the land border again.
If you do not take FMM, there is no Mexican entry and exit stamp posted on your passport either.
Mexico Permit by iVisa.com?
The ivisa.com is popular among the Indian H1B community in the US who think that they can get the Mexico Tourist permit (FMM) online. This is NOT completely true.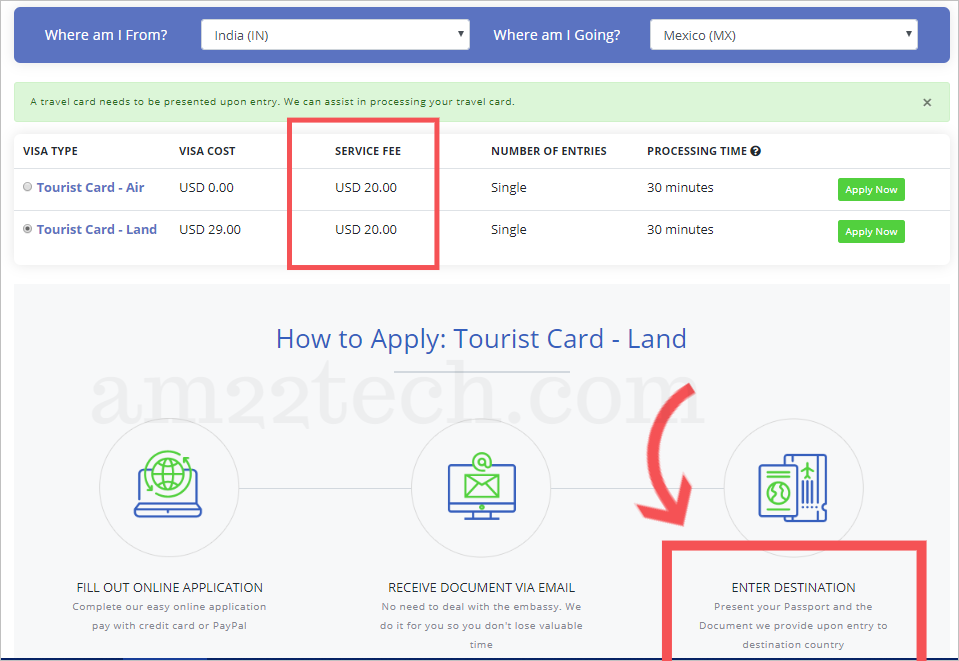 ivisa.com only helps you fill the official Forma Migratoria Múltiple (FMM) application form online for service fees of USD $20 + the official application fees. This same service is available FREE of COST on Mexico's official government website.
You will off-course need to pay the FMM application fee of approx. USD $29 if you intend to get this permit for more than 7 days from either website.
In both cases, you need to present this FMM card at the Mexican border Immigration office and get an official stamp to make it valid.
You do need a valid passport and a valid visa from the US, Canada, Japan, or Schengen country to make this FMM legal.
Do not believe the myth that once you have applied online on ivisa.com and they have sent you an FMM PDF file, you are good to go.
Problems – Didn't Stamp FMM at Land Border
There is no problem if you enter and exit Mexico by land border without FMM for non-Mexican citizens. They do not check anything at all.
The problem will arise if you enter by land and want to exit Mexico by air. Airlines do not issue the boarding pass unless you have FMM.
There is a way out though by paying the fine of about USD $29. The immigration counter at the airport will issue a new FMM card.
Many people who lose their card or overstay the 7-day free permit do pay the fine on their exit from the international airport. It is a standard process.
Entered Mexico by Land Using US Visa for US Visa Stamping
If you came to Mexico for US visa stamping and used your existing valid US visa, you can get the FMM easily.
Although the 7-day permit is free, I still strongly suggest getting it for 180 days by paying the application fees. Why? I explain next.
Your existing US visa will be canceled without prejudice at the time of your interview and then you will not be able to extend your Mexico FMM beyond 7 days.
Note that you cannot re-enter the US while waiting for your form 221g processing like DS 5535 at the US embassy using visa Automatic re-validation within 30 days or entering Mexico.
Some people have reported on our WhatsApp groups that they were allowed entry to the US from the Nuevo Laredo border even though they had a pending US H1B visa application at the US embassy. I consider this as an exception, as legally, CBP cannot allow you.
I know of people who tried a similar thing at Nogales and Ciudad Juarez Mexico land border and were denied entry.
Canada Visa vs Mexico Visa
A Mexico visa is another option if you want to go for a US visa stamping in the Mexican US embassy.
The better option though is to apply for a Canada visitor visa as it comes with a 10-year validity and allows you to enter Mexico whereas a Mexico visa is given only for 6 months.
Canadian visa also helps you travel through European countries like Frankfurt, Brussels, and Germany which would otherwise ask for a transit visa.
Note that an FMM card is required in all cases when you enter Mexico by Land or Air.
When flying into Mexico, airline staff will give you the FMM form to fill ahead of landing. When entering by land, you can either fill it online or fill it at the immigration counter.
FAQ
Do I need Mexico Visa for US visa Stamping?
You do not need a Mexico visa if you have a stamped visa in your passport from Canada, the UK, the USA, Schengen Countries, or Japan.

If you do not have any of these visas, you should apply for a Mexican visa before traveling to Mexico.
Do I need a Mexico Tourist Permit (FMM) for US visa stamping?
A Mexico tourist permit (FMM) is highly recommended.

It is not optional by Mexican law but the laws and checks are not implemented strictly on Mexican Land borders and hence people do get away without ever getting the FMM.

The FMM is checked strictly on international airports though. The airline will not issue a boarding pass if you don't have the FMM.
Is Mexico's border Permit the same as Tourist Permit (FMM)?
Mexico Border permit is different than Mexico Tourist Permit (FMM).

When you enter Mexico for US visa stamping, you should take the FMM i.e. tourist permit and not a border permit.

People refer to both in normal day-to-day language but they are two different types of permits.

Is Mexico Visa required for i94 Extension at the US Mexico Land Border?
You do not need a Mexico Visa at the US-Mexico Land border if you have a valid unexpired US visa stamp in the passport.

If your US visa stamp in the passport has expired, then, yes, you do need a Mexican visa (or another country visa that they accept) to enter Mexico as per Mexican immigration law.

In many cases of i94 extension at the border, you will actually never face Mexican immigration since you will turn back to enter the US as soon as you cross the land border.
In these cases, you do not need any kind of Mexican visa unless your US entry is denied and you have no other option than to enter Mexico.