How to get IP University Transcript in Sealed Envelope
Get IP university transcripts sealed envelope from Delhi Campus in 25 days. Mark sheet copy, payment challan & application form required. Cost Rs 1k/copy.
AM22Tech Team
Updated 20 Jul, 21
Documents for IP University Transcript, Delhi
Photocopy of ALL mark-sheets that you are requesting TRANSCRIPT for OR a photocopy of the consolidated mark sheet.
Photocopy of the payment proof (called bank Challan) for transcript request.
Application for transcript addressed to 'Controller of Examination'.
Fees for IP University Transcript
The fee charged is based on your year of passing out from Guru Gobind Singh Indraprastha University counting back from today's date.
| IP University | Transcript Age | Fees (INR) |
| --- | --- | --- |
| 1 transcript | 5 yrs or below | 1,000 |
| 1 transcript | More than 5 years | 2,000 |
| 25 transcript | 5 yrs or below | 5,000 |
| 25 transcript | More than 5 years | 10,000 |
Count the number of years back from today's date to reach the 'years old transcript' time. Please carry CASH for easy transactions at the university office in Dwarka.
IP University Transcript in the sealed envelope can be obtained by In-person application submission only. No online transcription service is available.
Transcript Processing Time
IP university transcript processing time is 25 working days. Working days exclude Gazetted holidays, Saturday and Sunday as per Central and Delhi government holiday calendar.
No urgent or tatkal or emergency transcript service is available.
IP University Transcript Process
#1 IPU Transcript Form
There is no official GGSIPU transcript form. Write a transcript application yourself using this sample transcript application.
Replace the RED markers with your own information.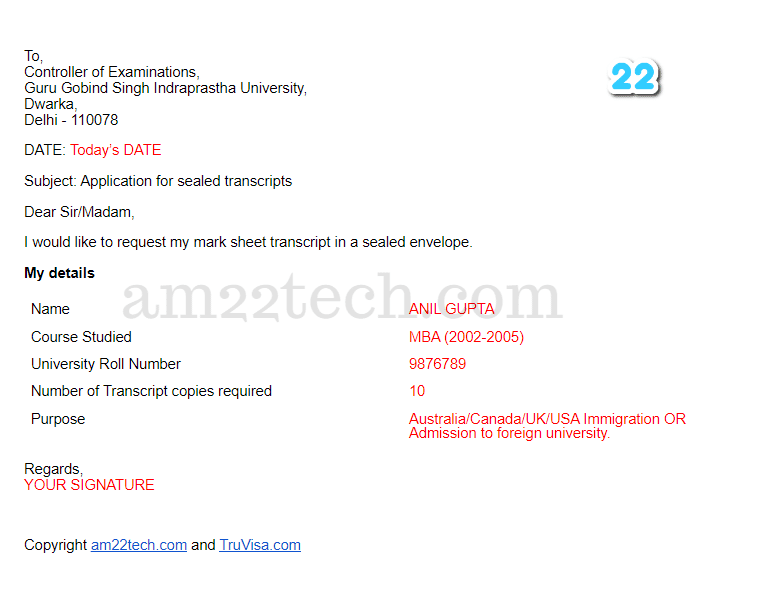 #2 Pay IPU transcript fees
Transcript application fees are accepted in the Indian Bank branch located inside IP University, Dwarka, Delhi campus. Bank will provide with payment receipt called Challan. No online payment is available.
#3 Mark Sheet Photocopy
Get all mark sheets and degrees photocopied. No notary is needed for mark sheets.
Get a Bank payment receipt (challan) photocopy. Get your application (that you wrote) photocopied too. 1 copy is required for your records only.
#4 Submit IPU Transcript application
Submit at university transcript window located at IP University controller of 'examinations' center at Dwarka, Delhi campus.
IP University Campus Address
Sector 16C
Dwarka,
Delhi – 110078,
India
Transcript from India through Agent
You can opt to get services from an Indian service provider to get a transcript on your behalf. The process is legal as long as you find a reliable company.
AM22Tech provides the transcript service from India for various universities including Delhi and IP universities. Your transcripts can be sent directly to WES Canada even when you are not physically present in India.
Use coupon code DWHF5RQ6 to get a $29.99 discount on the am22tech's University Transcript Service.
FAQ
How to send IP university transcripts directly to WES Canada?
IP university does not have the option to mail the transcripts at this time.

So, the only option is to get your family/friend to collect the transcript and then mail it to your WES address directly from the post office located within the IP university campus.

Or you can use a service provider like AM22Tech to help you with getting the transcripts and sending them directly from India to Canada.
 
Can a Relative or a friend Apply for my IP university Transcript?
Any relative or a friend can apply for IP university transcripts. You do not need to present in person at application or transcripts collection time.

You need to provide an authority letter to submit or collect transcripts on your behalf.
Can I open the sealed envelope to verify the transcripts?
The transcripts are taped and signed by the university official to make tamper-proof. You should NOT OPEN it yourself.

Wherever you need to submit it, you have to submit it as it is. Most people need it either for applying to universities in the USA or immigration to Canada, Australia, and other countries.