US Green Card Marriage Certificate (Indian Proofs)
Your date, place of Marriage is religious marriage date and not registration date. Fill same date on I130, I485 and NVC application. Permanent ban for fraud.
AM22Tech Team
Updated 11 Jun, 21
You will need the marriage certificate to file a USA green card application which can be filed either using DS-260 (if outside the US) or i-485 (physically present in the USA).
The marriage can be easily registered in India in your local sub-divisional magistrate (SDM) office unless you directly got married in court.
If both husband and wife are of the same religion, they can get married under the Hindu Marriage Act, the Christian Marriage Act, Nikah or Muslim personal Law, etc.
Here is a sample Marriage certificate from the registrar's office in Delhi registered under the Hindu marriage act. This marriage was registered within one year of marrying as per Hindu rituals in New Delhi.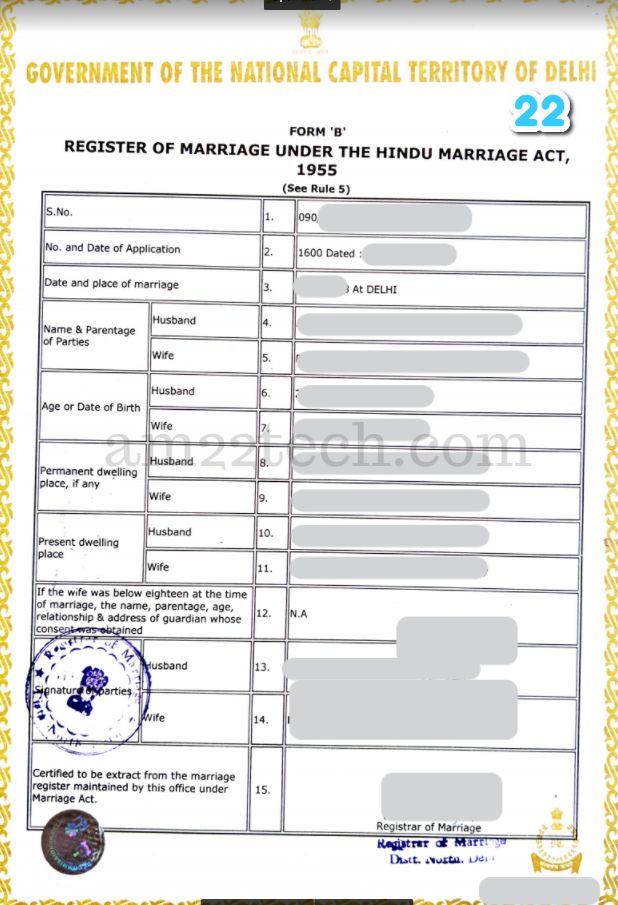 Which Marriage Act Applies to Me?
For the sake of simplicity, we are using the Hindu Marriage Act as an example, but if you're Christian or Muslim, then replace Hindu Marriage Act with Christian Marriage Act or Muslim Personal Law based on the religion you follow.
If both the husband and wife follow different religions, they should get married under the Special Marriage Act in India. This is commonly known as inter-religion marriage and is covered under the 'special marriage' act in India.
If both are of the same religion, they can get married under the Special Marriage Act OR the Hindu Marriage Act or the act that caters to their specific religion.
Special Marriage Act
The Indian Special Marriage Act provides a special form of marriage for the people of India and all Indian nationals in foreign countries, irrespective of the religion or faith followed by either person.
Marriage under this act is called Court Marriage.
Court marriage requires that both applicants publish a 'No Objection Certificate' in the newspaper in both the parties' constituencies stating that they are free to marry and do not have incomplete annulled marriages from the past.
Their marriage can only take place 1 month AFTER this notice.
This is important because, under the Hindu Marriage Act, you can have a small ceremony, get the priest's certificate and take it to the registration office and obtain a marriage certificate within a day.
So it's very easy to obtain a marriage certificate under the Hindu Marriage Act, whereas there is a 1 month waiting period for the Special Marriage Act.
Marriage Solemnized vs Registered
Under this marriage, your marriage is SOLEMNIZED and REGISTERED by the marriage officer.
Please note the word "solemnized" because this part is different from the Hindu Marriage Act.
Sample Special Marriage Act Certificate
The Special Marriage Act Certificate from government of Maharashtra looks like this: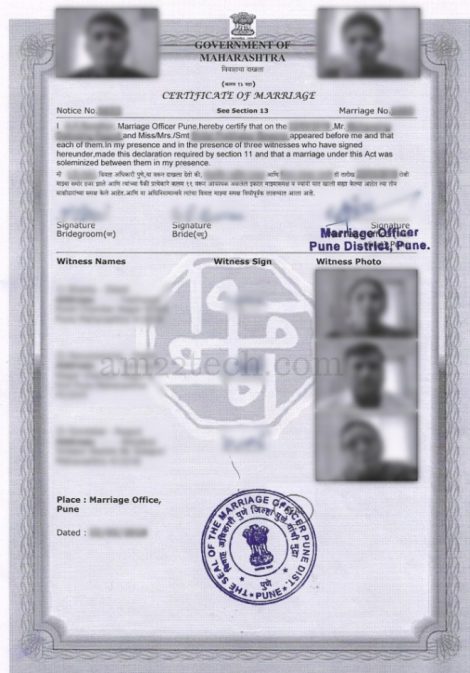 Hindu Marriage Act
Your Marriage is SOLEMNIZED by the PRIEST but REGISTERED by the government's Marriage Officer. Your marriage is NOT SOLEMNIZED by the government's Marriage Officer.
The government's office could be located in the local district court or is usually called the Sub-divisional magistrate (SDM) office in your state.
In such a type of marriage, you need to perform ALL necessary rituals BEFORE registering your marriage.
You need to take the Priest Certificate to the Marriage Registrar's office and register your marriage.
Your Date/place of Marriage is the Date/Place your marriage was SOLEMNIZED and NOT REGISTERED.
It is completely alright to get married first and then register your marriage at a much later date. Typically you should get your marriage registered as soon as possible and avoid delay, but in some scenarios, it is not possible.
For example, you may go for a honeymoon or the primary spouse (husband or wife) may have to travel back to the US immediately and don't have the time to register the marriage quickly. This is acceptable and you can register it within 1 year as a recommended time frame.
Murthy law firm clarifies that if you do get "religiously married first" but do not register your marriage, you are still considered married as of the day you got religiously married.
US visa officers and USCIS consider the date you got religiously married as the date you are actually married.
In your marriage Certificate, you should clearly have it mentioned that your marriage was solemnized by the priest and registered by the marriage officer.
Marriage Mistakes that People Make
#1 Small Marriage to File I130/i-485 Quickly
Do a small marriage with few people first (often incomplete rituals) to obtain the marriage certificate as quickly as possible so that they can file I-130 or i-485 for their spouse.
Then later on they have a lavish wedding with Complete rituals. The Consular officer will consider this as marriage fraud because you got married earlier for Immigration benefit.
This has nothing to do with "Proof of bona fide marriage."
#2 Mention Registration Date on I-130 Form
Do not write marriage registration date in I-130 or i-485 or any other visa forms as the day of marriage.
The CORRECT date and place of Marriage is the date/place your marriage was SOLEMNIZED and NOT REGISTERED. This simply means the date you had your religious marriage ceremony.
#3 Different Dates in I-130 and NVC
During NVC, you may mention a different date than the date your marriage was solemnized.
Do not make such mistakes as they could land you in trouble. Be consistent with your marriage date and follow the rules above if you have doubts about which date to mention.
Incomplete Marriage is An Immigration Fraud
Murthy Law explains that incomplete Indian religious marriage is considered an immigration fraud and you can be permanently banned from the US.
US embassy issues form 221g denial to H4 visa applicants too who try to take an earlier H4 visa stamping appointment using the registered marriage certificate.
Sample Hindu Marriage Act Certificate
Your marriage Certificate could be in a different format but, the wordings would be similar.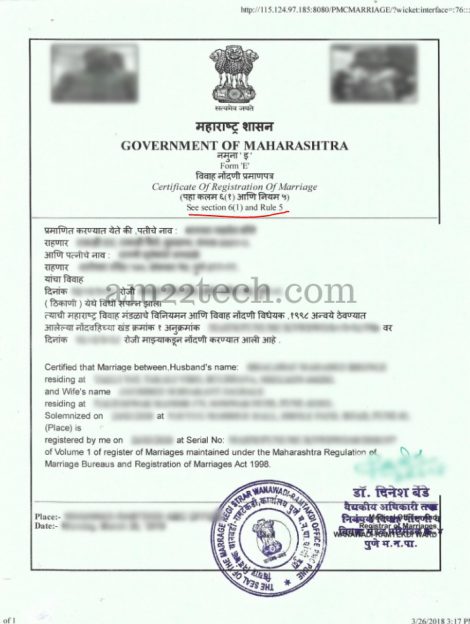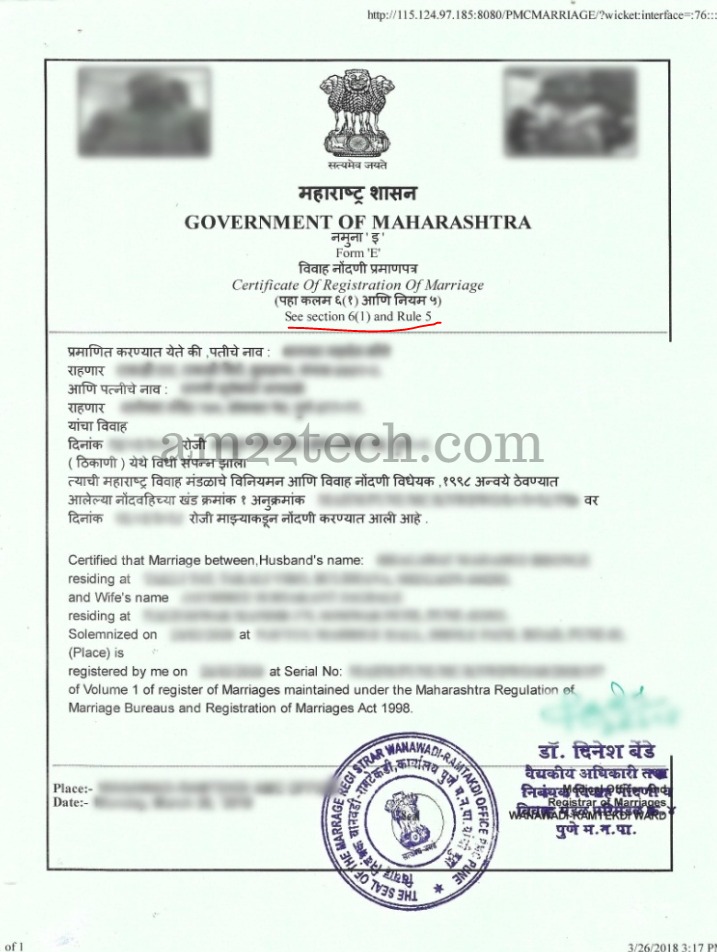 FAQ
What marriage date to write on I-130 form?
You should write the date of your religious marriage ceremony on the I-130 form. Do not write the marriage registration date.
What if married religiously but never registered the marriage in India?
You are considered married by a US visa officer even if you did not register marriage after marrying as per religious ceremony.

You can register the marriage now and use the registration certificate for the US green card interview.
Is Date/Place of Marriage is the day/place you got Court Married?
Any religious ceremonies before and after this date are purely for personal reasons. It is very common to get court married first, then perform religious ceremonies later.

However, if the US consular officer asks you, you should answer honestly and provide a genuine reason for doing so. You should have valid reasons to explain the gap between court marriage and traditional marriage.

Don't stress over this too much, just be calm and honest. You have done nothing wrong.