USCIS i693 Medical Form – Fill A-Number & Name on All Pages (Doctor Can Fill Too)
How to fill USCIS i-693 medical form easily. Enter once and get pre-filled and validated official form by email. A number & Name on all pages.
AM22Tech Team
Updated 5 Sep, 22
USCIS medical form (i693) has about 14 pages and you need to fill in your full name and A number on all pages.
This is cumbersome even if you are filling it using your phone or computer. We will show you how to easily fill out the form and your details on all the pages of form i-693.
A separate i-693 form needs to be filled out for each member of the family who is applying for the i-485 green card application.
How to fill i-693 form?
We strongly recommend using AM22Tech's app which helps you validate all your data to make sure you do not make any mistakes.
If you are a doctor and want to fill out this form for your patient before they come for the USCIS medical appointment, you can also fill in all the fields and save time.
Fill i-693 form easily before visiting Doctor's clinic >
A user log-in is required and the app will save your information to generate the form again anytime later from any device including your iPhone, Android, or Samsung mobile.
#1 Enter Your Details
Enter your full name and birth details in the first step. Make sure that there is no spelling mistake and that all these details match your current valid unexpired passport.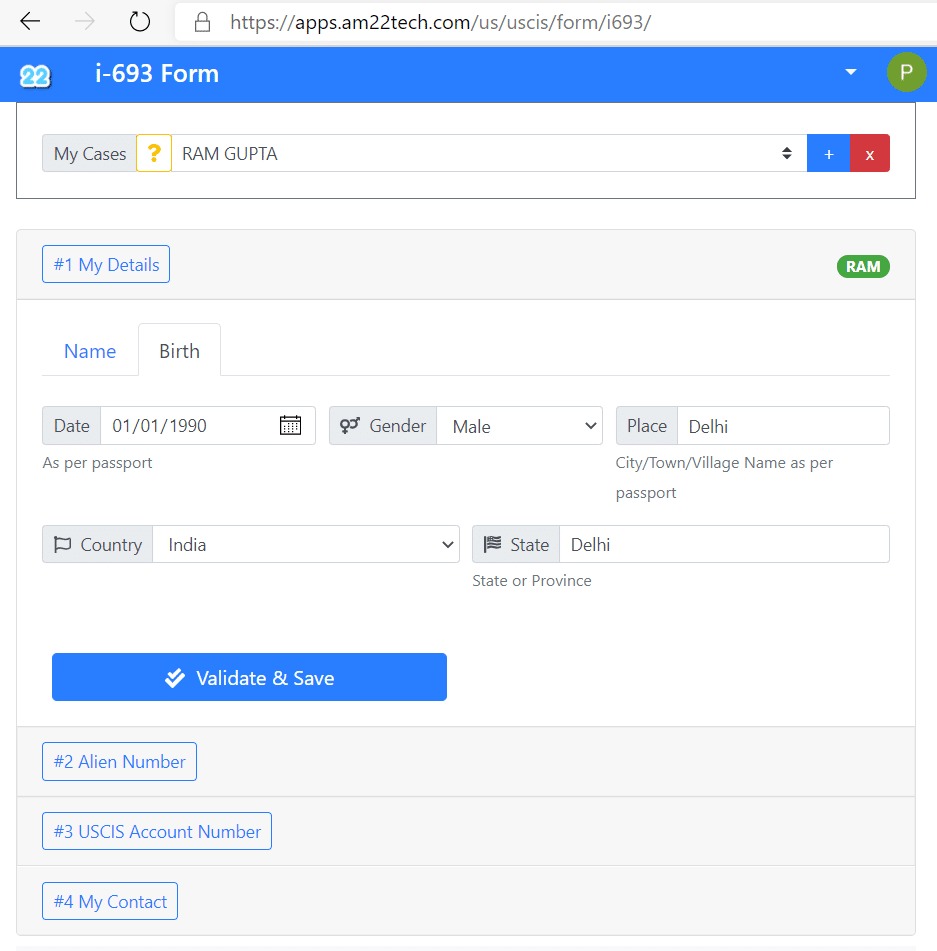 #2 Alien Number
Step 2 requires you to enter your A number. It is possible that you do not have any A-number at this time and you can leave it blank.
The same is true for the USCIS account number.
You can check this page to find your A-number.
For example:
A family of H1B and H4 dependents may have this scenario:
H1B primary has an A number issued with his i-140. Find it on his i140 approval page.
H4 dependent spouse may have her own A number on the H4 EAD card if she was issued one anytime in the past.
H4-dependent kids may not have an A number issued at all. In that case, you can leave the A number for your H4 child blank.
#3 USCIS Account Number
The USCIS Online Account Number is not the same as an A-Number (Alien number).
Most people do not have it.
If you have previously filed an application, petition, or any request using the USCIS online filing system (previously called USCIS Electronic Immigration System (USCIS ELIS)), your USCIS Online Account Number can be used here.
You can find your USCIS Online Account Number by logging in to your account and going to the profile page. If you previously filed certain applications, petitions, or requests on a paper form via a USCIS Lockbox facility, you may have received a USCIS Online Account Access Notice issuing you a USCIS Online Account Number.
If you received such a notice, your USCIS Online Account Number can be found at the top of the notice.
You can leave it blank if you do not have it.
#4 Contact Details
The last step is to fill in your current USA residential address and contact details.
We recommend entering your email and mobile phone number.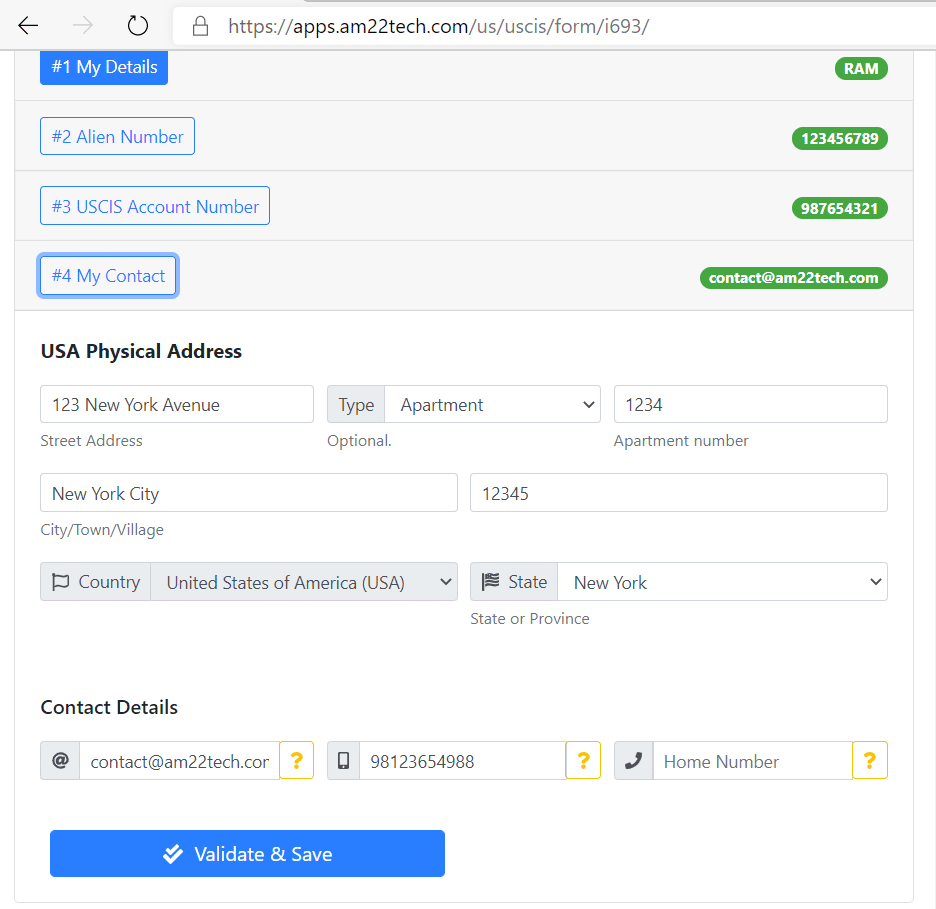 Fill Form & Email
The last step is to click the green button marked as "Fill Form & Email me (Secure)". This will validate all data again, pick up the current USCIS i693 form automatically, fill it out, and send it to your registered email ID.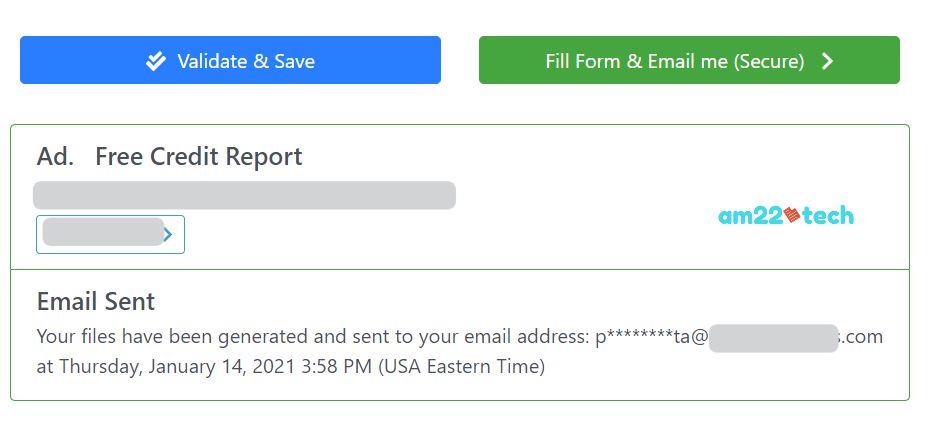 Note that the file is not allowed for download for security reasons.
The email also contains the instructions on the next steps so that you do not feel lost.
You only need to fill in your details on this form and take it to the USCIS-approved physician's office. The doctor will fill in all other details and sign.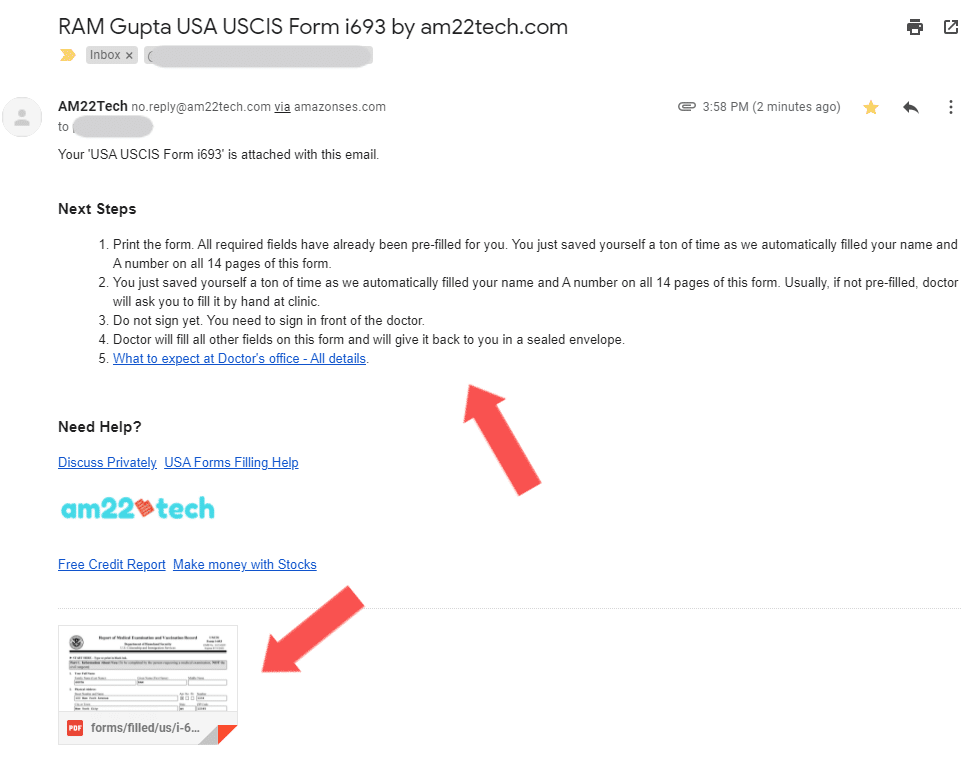 Fill i-693 form easily before visiting Doctor's clinic >
FAQ
I have not received the email with my Form i693. Whom Should I contact?
You should wait for at least 1 hour to see if the email arrives in your mailbox. Do not forget to check your SPAM folder.

If you still have not received the PDF file, send an email to contact AT am22tech DOT com with the same email address that you used to log in, full name, and address.

They will verify and resend your affidavit files over email.
Can I print form i-693 in Black and White Color Ink?
You can download the pre-filled i693 form on your computer or mobile phone and then print it using A4 size paper with black and white ink.

Make sure that you do not double print. Only one side of the page should be printed and leave the backside blank.
Can I fill out form i693 myself or need attorney help?
You can fill out form i-693 using am22tech's app easily without any attorney's help.
When does the app update i693 forms to sync with the USCIS version?
Our app is updated the same day as USCIS releases the new form version.

Example:
USCIS released the i693 form for COVID changes on Oct 1, 2021, and the app was immediately updated to use the new form the same day.