USCIS Sample Application Withdrawal Letter (Use App)
USCIS Sample Application withdrawal letter for H4-EAD, I-765 or any petition. Receipt notice, withdrawal reason required. Check receipt number to find USCIS office.
AM22Tech Team
Updated 17 Jan, 21
USCIS Sample Application withdrawal letter can be used to take off any pending application.
USCIS withdrawal letter does not need notarization.
You should send a withdrawal letter by certified mail or registered mail preferably by USPS and use tracking. You should have proof that you sent this letter.
You can also use FedEx or UPS mail with tracking.
Create USCIS application withdrawal letter now >
We recommend keeping a scanned copy of the letter as well as you may be doing it for all your immigration documents.
You can use our app to write this letter in PDF format and then you can save that PDF file on Google Drive or any other cloud service.
This article will discuss:
Sample Letter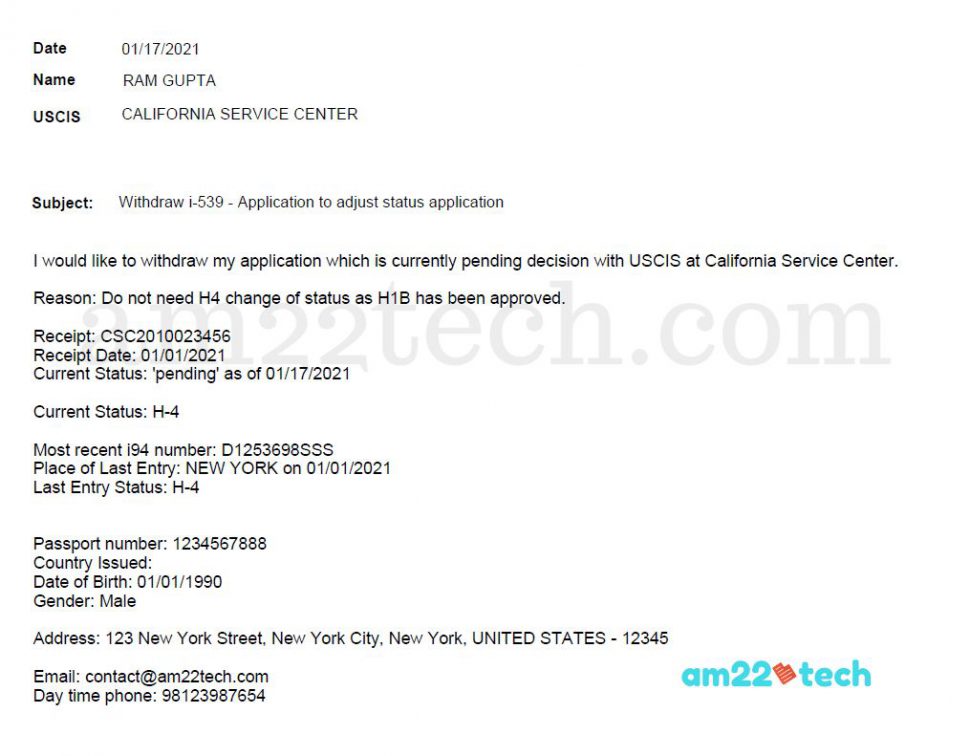 How to Create USCIS Withdrawal Letter
#1 Enter Application Type
Enter the name of the form you want to withdraw. Your USCIS application receipt number, receipt date, its current status are required.
USCIS should be able to use this information to find your application in their system.
Examples:
To withdraw H4, F2, or L2 extension application, you can mention the i-539 application to adjust the status.
To withdraw pending I-130 application for a family green card, you can write I-130 Petition for Alien Relative.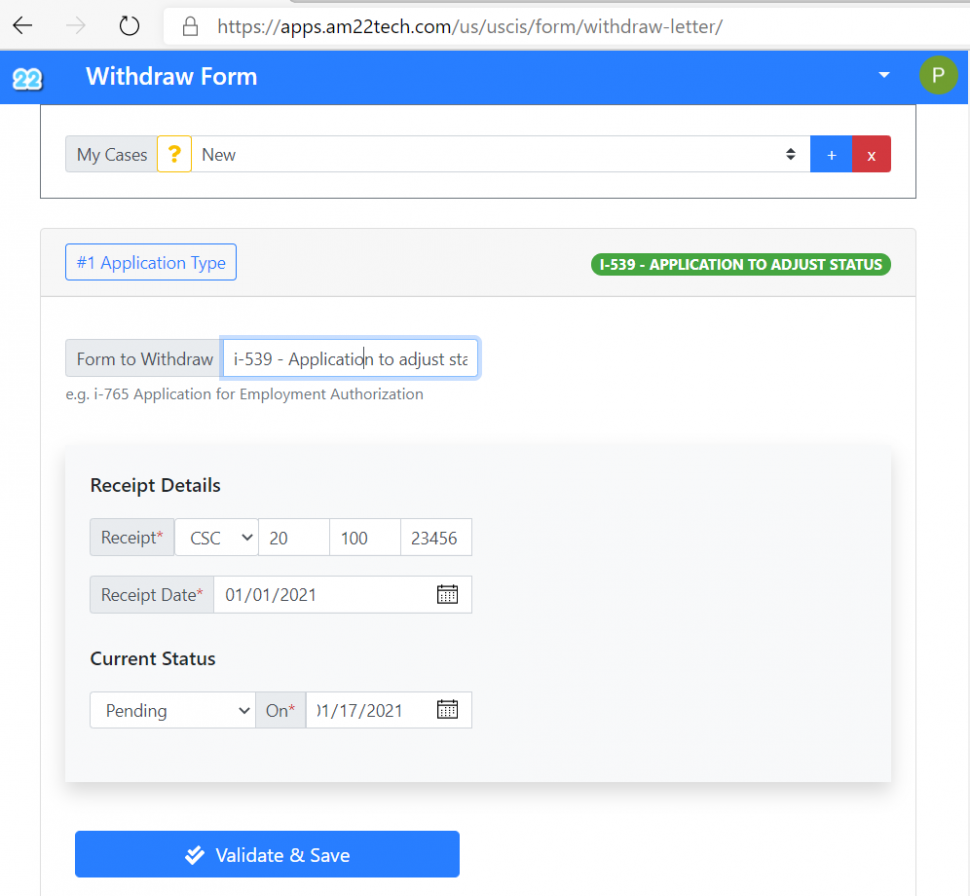 #2 Enter Personal Details
It is important to enter the correct details about your application. Enter the name exactly as it appears on the USCIS application form.
Use the same passport details that you would have entered and submitted on the official USCIS form.
Click 'Validate and Save' to allow app to verify all the data entered and save it if you want to continue later.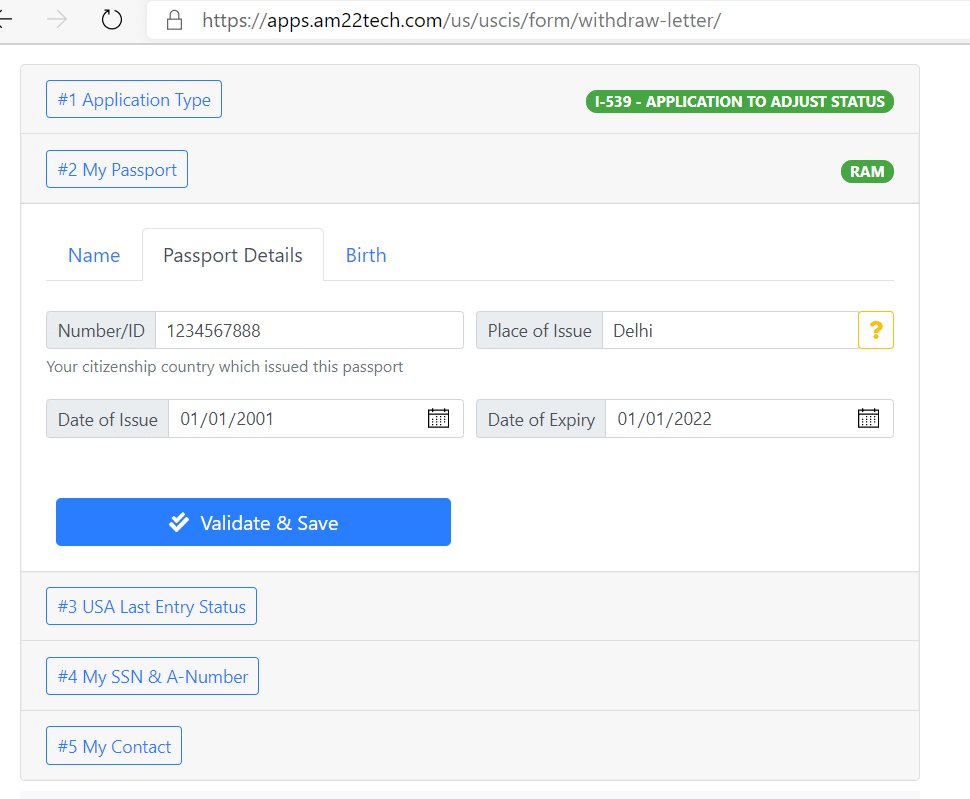 #3 USA Last Entry Status
Your current legal status in the USA and the visa you used to enter the USA in your last travel is important. USCIS uses this information to understand your legal status in the USA.
The most recent i94 shows your current visa status. The most recent port of entry should be the city name where you entered the USA. It could be the airport name too.
The last entry date should be stamped in your passport.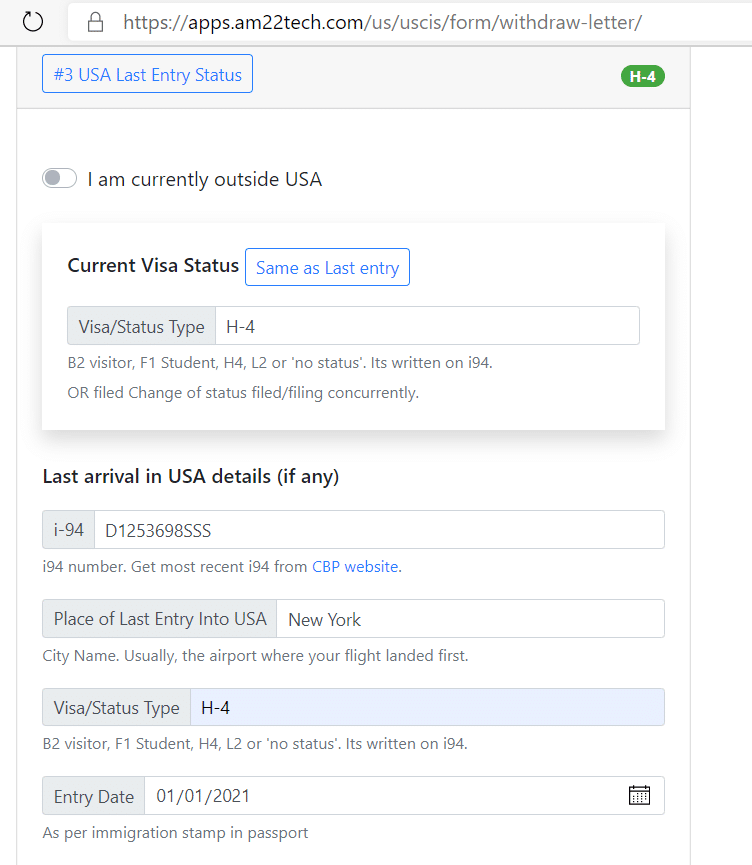 #4 SSN & A-Number
You can mention your SSN number but it is optional. It is also recommended that you write the SSN number by hand on the printed withdrawal letter instead of entering it in the app. App gives you an option and does not force it.
We strongly recommend to mention Alien number if you have one.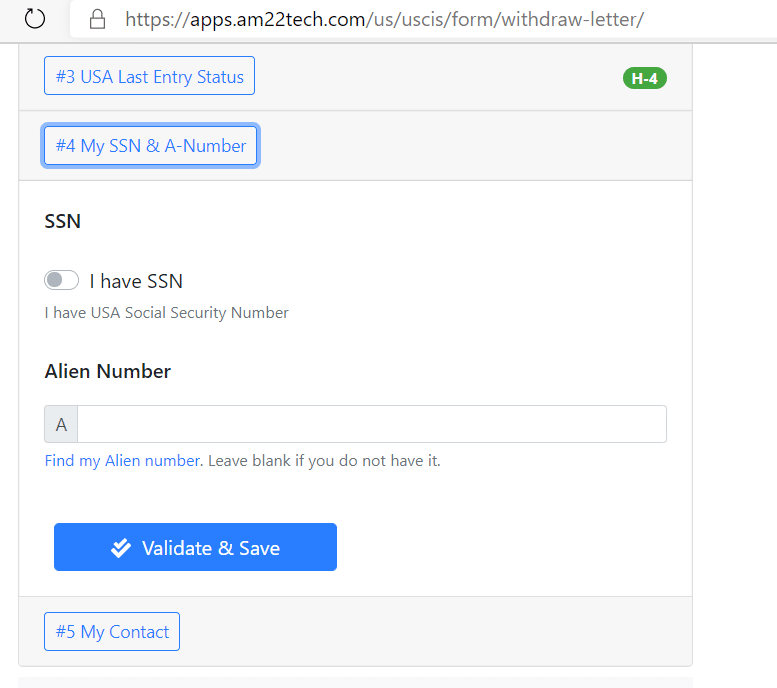 #5 Contact Details
The last step is to enter your current residential address.
Make sure that you enter the correct email and phone number which can be used to reach you. USCIS does not usually reach out to you using email or phone numbers directly.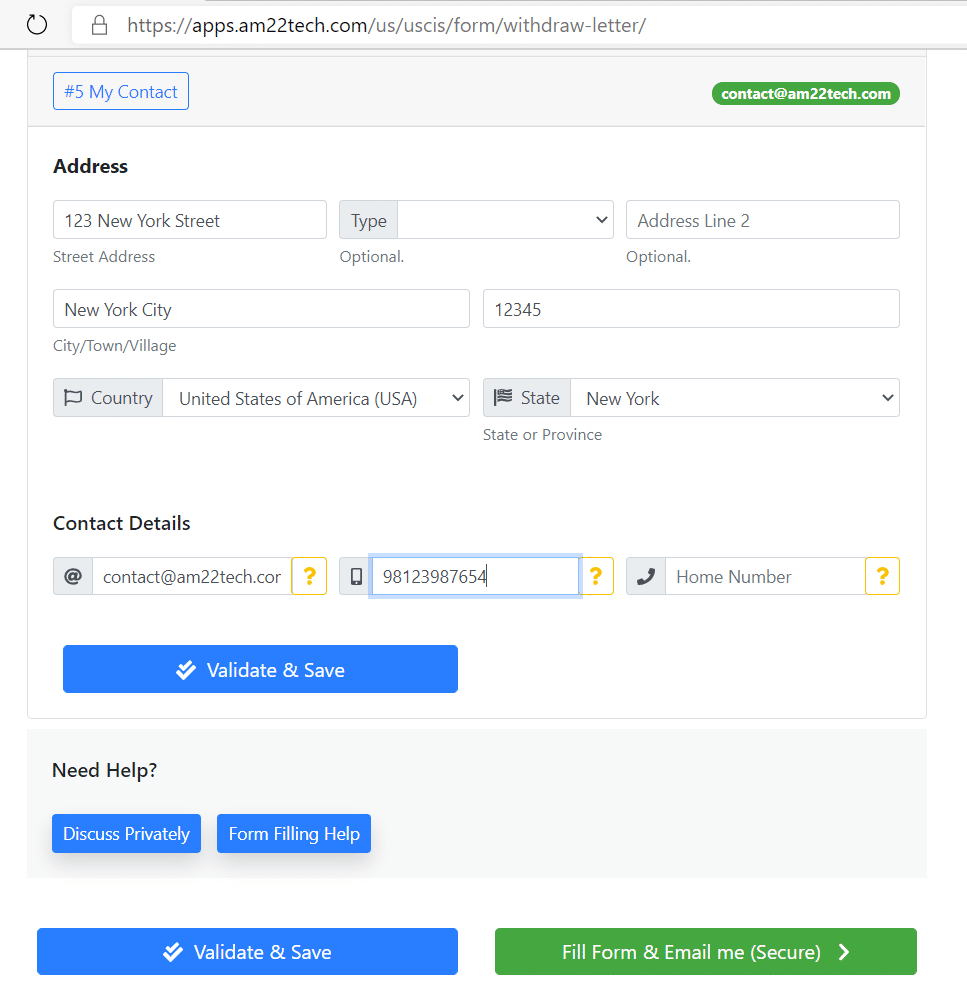 Once you have entered all the details, you can click the "Fill Form & Email me" button. This will validate all your data required to create the 'USCIS withdrawal letter'.
Create USCIS application withdrawal letter now >
It will also create your letter and send directly to you at your registered email address securely.
The email can take 1 minute to 1 hour. Do check your mailbox SPAM folder to verify the email.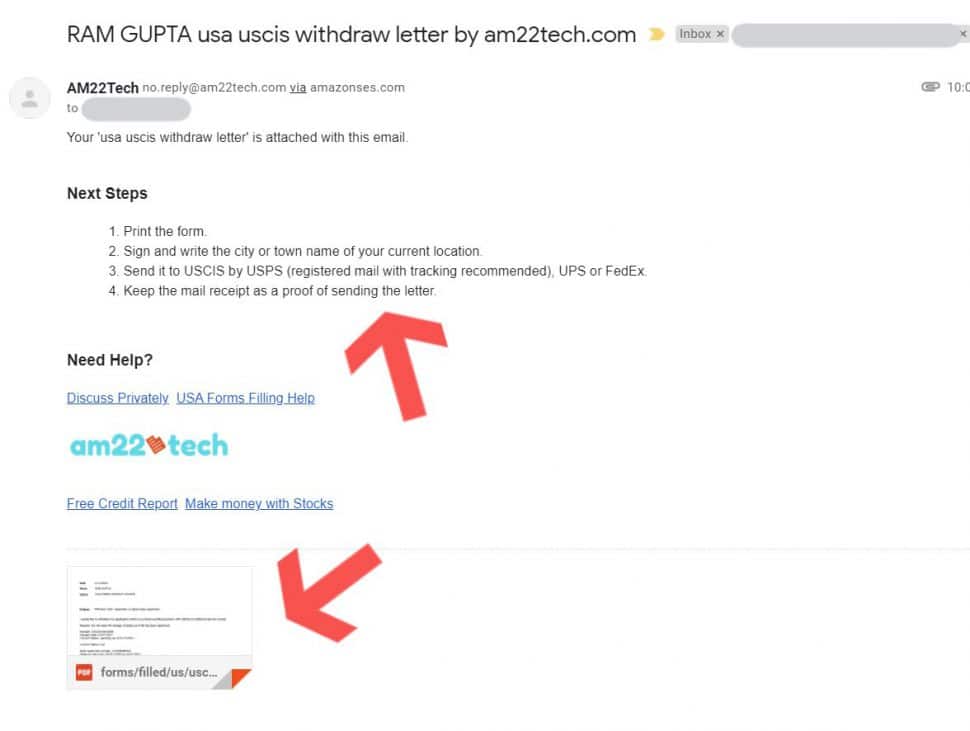 Withdraw Visa Petition Before USCIS Approval
If the application has not yet been approved or denied by USCIS, it's easy to cancel or withdraw it by sending the letter to USCIS.
There is no official withdrawal USCIS form.
You need to know the USCIS office that's currently handling the petition/ Application.
Enclose a copy of the receipt notice, if you received one from USCIS. That will help it trace your file.
You should also write the reason for withdrawal. USCIS does not care about the reason as long as they do not sense any fraud.
Application Withdraw Processing Time
There is no defined processing time by USCIS for the withdrawal requests.
The only proof you have is the 'certified mail' that you send and the scanned copy of the letter.
You can assume to have done the withdrawal that day it is received by USCIS.
If any issue is raised by USCIS later with respect to your withdrawal or current status, you can submit the certified mail receipt and copy of the letter as proof that you did request a withdrawal.