One and Same Person Affidavit for Multiple Names (Immigration/Other)
Sample one and same person affidavit for multiple names on education degree, passport and work experience letters. Use for Canada, Australia Visa or PR.
AM22Tech Team
Updated 25 Nov, 22
Do you have a different name version on your passport, education degree, and other visa and legal documents?
If yes, then you can create a 'One and same Person Affidavit' and get it notarized to prove that all names belong to the same person.
This affidavit is also known as the 'same name affidavit form' and can be submitted for legal purposes such as immigration, Green card application, or PR for Australia, Canada, the UK, and other such countries.
You can either write this affidavit yourself or use an app to fill it out for you.
Affidavit for Multiple Names on Different Documents
Create One and same Person Affidavit Online >
#1 Enter your Details
Enter your Primary name as per your current passport and then birth details.
You are also required to enter your current residential address. This address can be anywhere in the world irrespective of your birthplace or home country.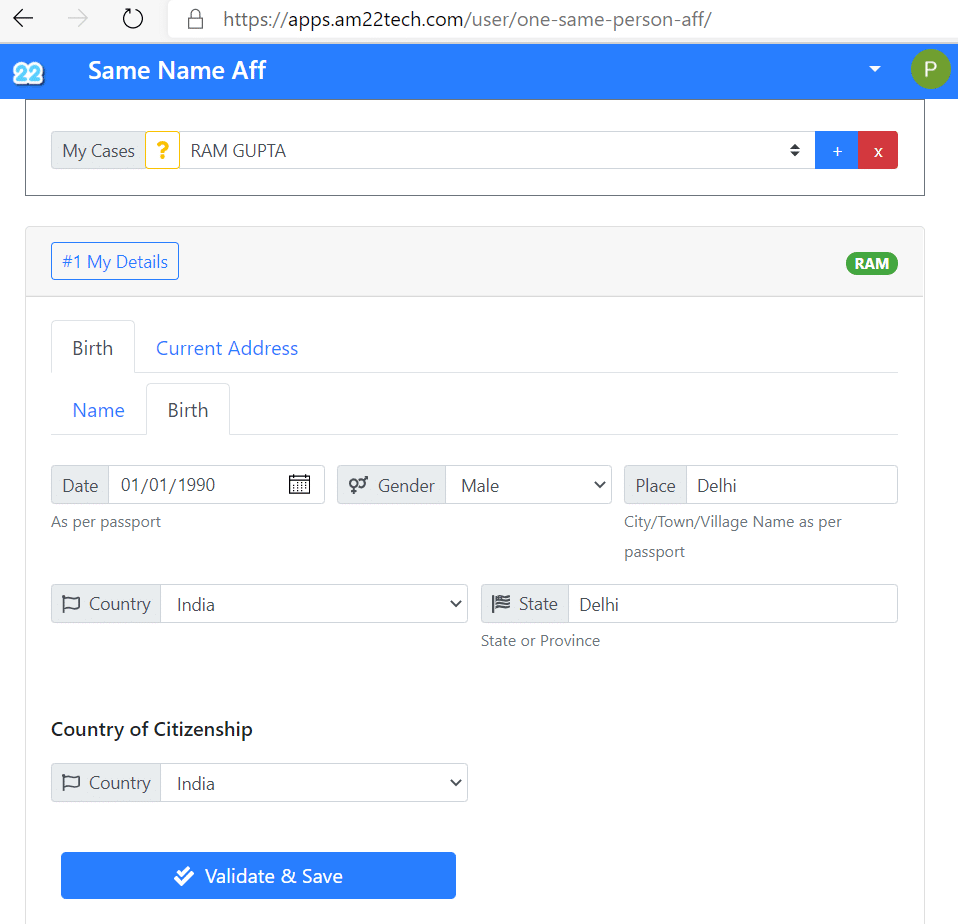 #2 Enter Other Names
You can enter different versions of your name for yourself. This is the same as entering your alias name.
Make sure that you do not make any mistakes in the name spelling as they will be written on the affidavit PDF.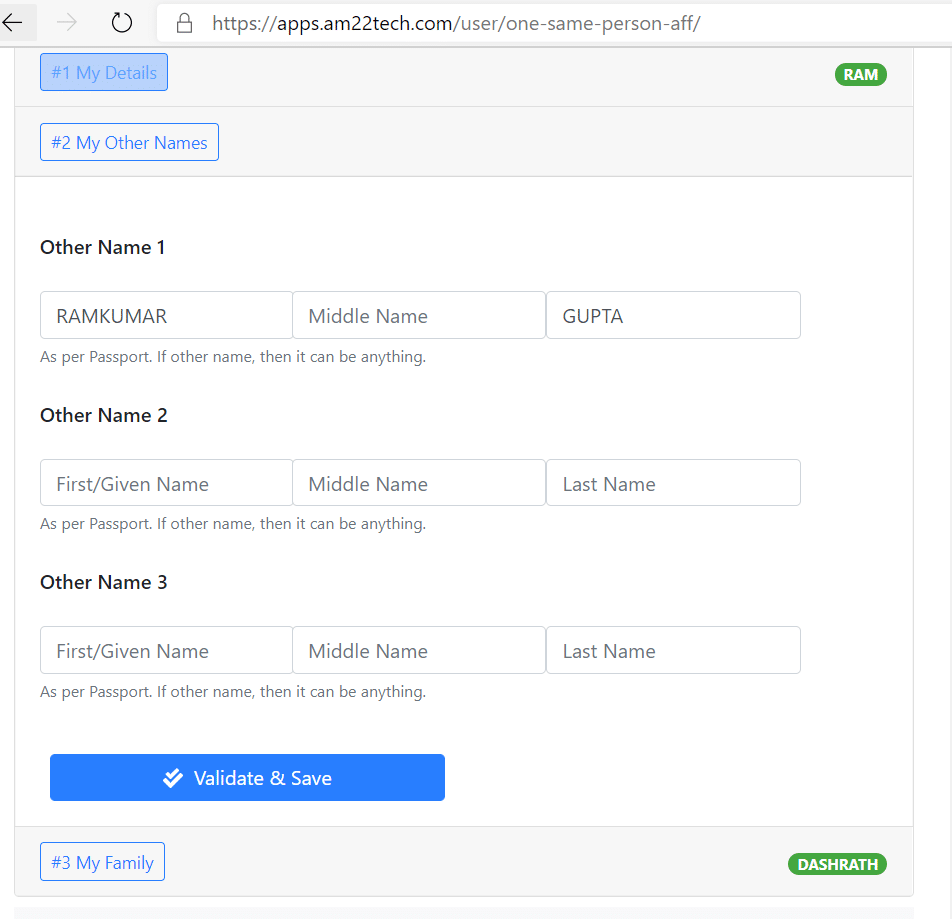 Should I consider Social media names as 'Other Names'?
A lot of people get confused with respect to choosing which names are considered other names especially when we use different alias names on social media platforms like Facebook, Twitter, Youtube, and others.
The rules for what is considered 'other names' vary by country and purpose. We suggest writing all the names that you think people (your friend circle and family) know you along with your social media names.
Examples:
In the USA, it is expected and required by law that you consider all names like maiden name, social media names that people know you with, and names on all legal documents like passport, birth certificate, education documents, and others mentioned on this same name affidavit form.
Other countries may have different requirements and may or may not require you to mention your name that you are not on any legal document.
Our suggestion is to use all names if you are not sure about the actual requirement to make the document universally acceptable.
#3 Enter Father's Name
The last step in data entry is to fill in your father's name. Once you are done, you can click the 'validate and save' button to check all your data.
If there are any errors, the app will automatically ask you to fix them.
If there are no errors, you can purchase (if applicable) the document and your affidavit will be sent to your registered email address within minutes.
Email with Affidavit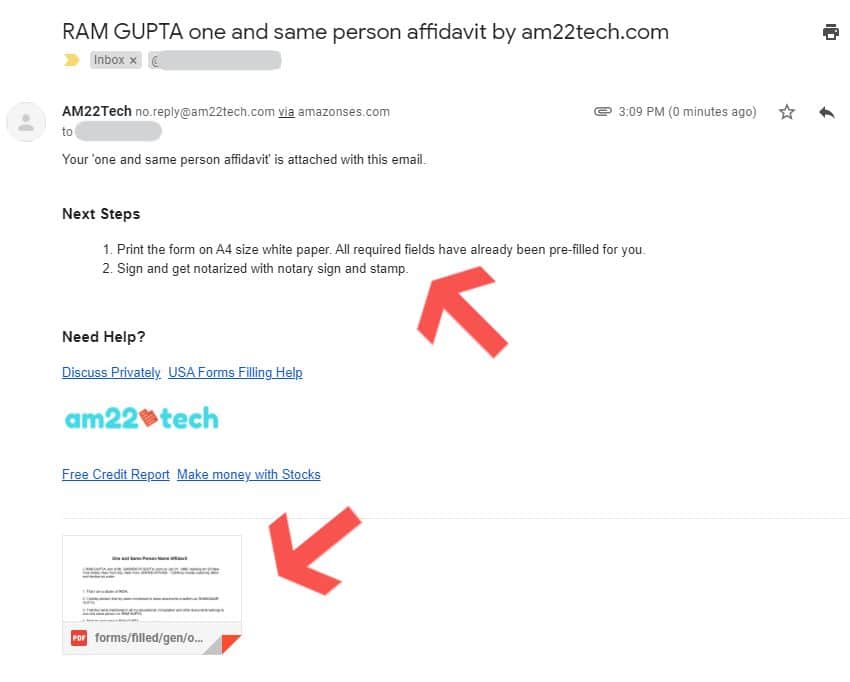 Notary
The notary will be required from your local notary to make it a legally valid document. You must sign this affidavit in front of the notary.
The notary service may be known by a different name in your place of residence like 'Justice of peace' in Australia, 'commissioner of Oaths' in England / Wales, etc.
There are options for online notaries as well in the USA where they connect and see you sign via video call. Not all states in the US accept online notaries though.
Example:
The state of Texas in the USA allows online notaries while some counties in California accept documents notarized by online communication.
Please check with your local state/county law before getting online notary services:
Photo on Multiple Name Affidavit
The photo is not required but highly recommended to avoid forging documents.
We recommend pasting a passport-size photo (according to the passport photo rules) of your country of residence and then signing across the photo so that half of the signature appears on the affidavit.
Sample Same Name Affidavit
This is a sample affidavit that arrives by email.
The app automatically adds the most recent tried and tested legal language based on your country and state of residence. All such country and state-specific formats have not been shown here due to limited space.
Example:
The same name affidavit in New York, US may have a slightly different language than the one created for a person living in Edinburg, UK.
Similarly, the language of the same name affidavit may be edited by the app based on the purpose of use like immigration or real estate purchase, or a civil/criminal court case proceeding.
The address on the final affidavit is also printed based on the residence address, and the address format requirements along with country-specific date formats.
The self-help app will always provide you with the most recent and updated PDF document that's currently being accepted by your local government and the purpose.
The app provides LIVE text chat support in case you have questions and a full refund policy.
Create One and same Person Affidavit Online >
Use this affidavit sample to fill in your different name combinations on various documents to verify that they all belong to the same person.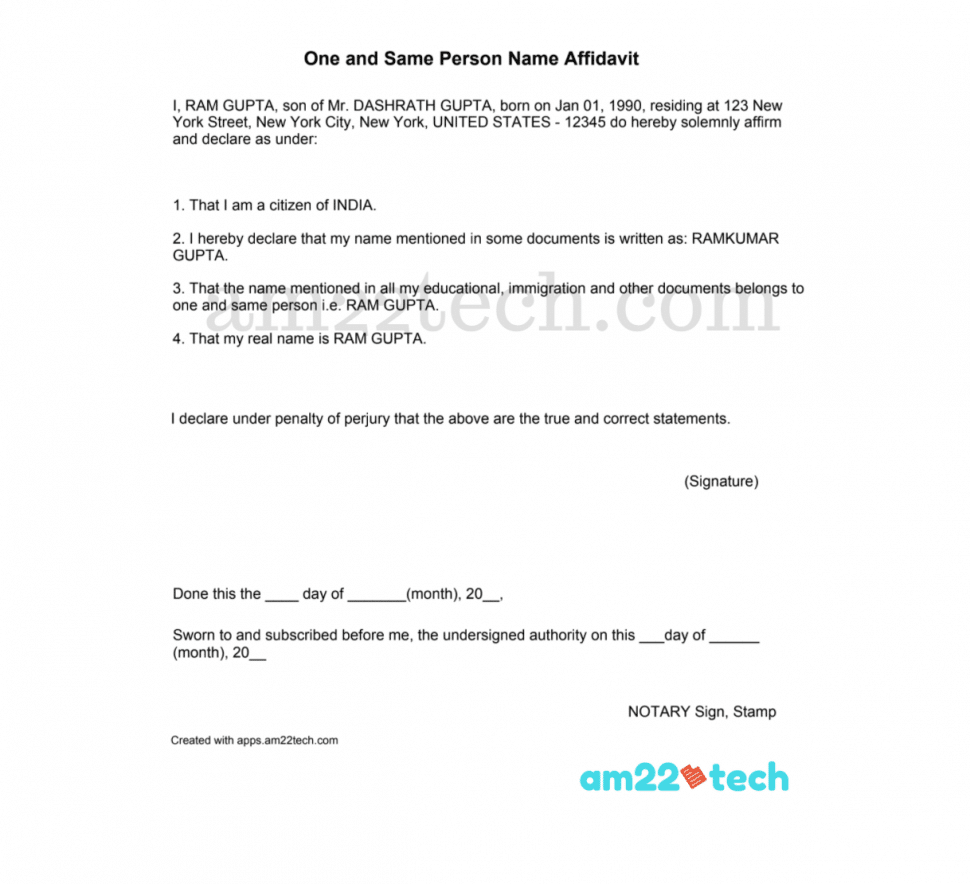 FAQ
Is Notary Required for Multiple Name Affidavit?
The notary is required for multiple name Affidavits if you intend to use them for legal purposes in court or for applying for a visa/ immigration to Canada, the USA, Australia, or other countries.
Can I Create an Affidavit on Plain Paper?
You can write or print the Name confirmation Affidavit on plain white A4 size paper to claim all or both names are the same person.

This name mismatch declaration is enough to prove the difference in your name between your passport, education documents, and other national IDs.

Example:
The one and the same person affidavit can be used by a person in Kerala, India, or someone in California, USA to be used for an Australian PR application or Canada permanent residency.
Can I use this Affidavit at multiple places?
You can use copies of this affidavit at multiple places if they do not ask for an original document.

Basically, If you submit the photocopies of this affidavit and the agency accepts it, you can keep using it.
Can I use this affidavit in Florida?
You can use this affidavit in Florida.

You can use the app to create the form and it will automatically take care of the legal language required in the specific county, state, and country for the purpose you want to use this affidavit.
I changed my last name after marriage. Is it considered another name?
The last name change after marriage is considered 'other name' and you should create a 'multiple name affidavit' to prove both names belong to the same person.

Some people add a middle name after marriage to add in-laws' last name to their full name. This new name is also considered a name that people know you with. Hence, you should create this affidavit.
Create One and same Person Affidavit Online >