One and Same Person Affidavit for Multiple Names (Immigration)
Sample one and same person affidavit for multiple names on education degree, passport and work experience letters. Use for Canada, Australia Visa or PR.
AM22Tech Team
Updated 17 Jun, 21
Do you have different name version on your passport, education degree and other visa and legal documents?
If yes, then you can create a 'One and same Person Affidavit' and get it notarized to prove that all names belong to the same person.
This affidavit can be submitted for legal purposes such as immigration, Green card application, or PR for Australia and Canada.
Affidavit for Multiple Names on Different Documents
Create One and same Person Affidavit Online >
#1 Enter your Details
Enter your Primary name as per current passport and then birth details.
You are also required to enter your current residential address. This address can be anywhere in the world irrespective of your birthplace or home country.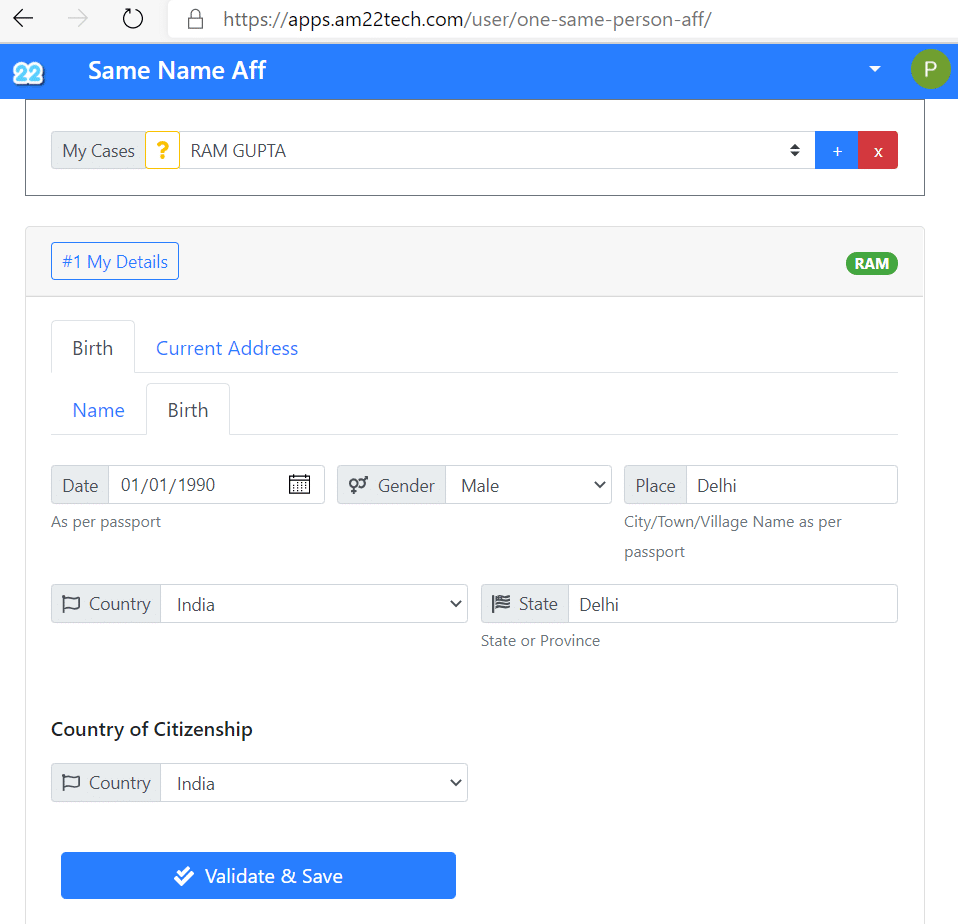 #2 Enter Other Names
You can enter up to 3 different versions of your name or 3 entirely different names for yourself. This is the same as entering your alias name.
Make sure that you do not make any mistakes in the name spellings as they will be written on the affidavit PDF.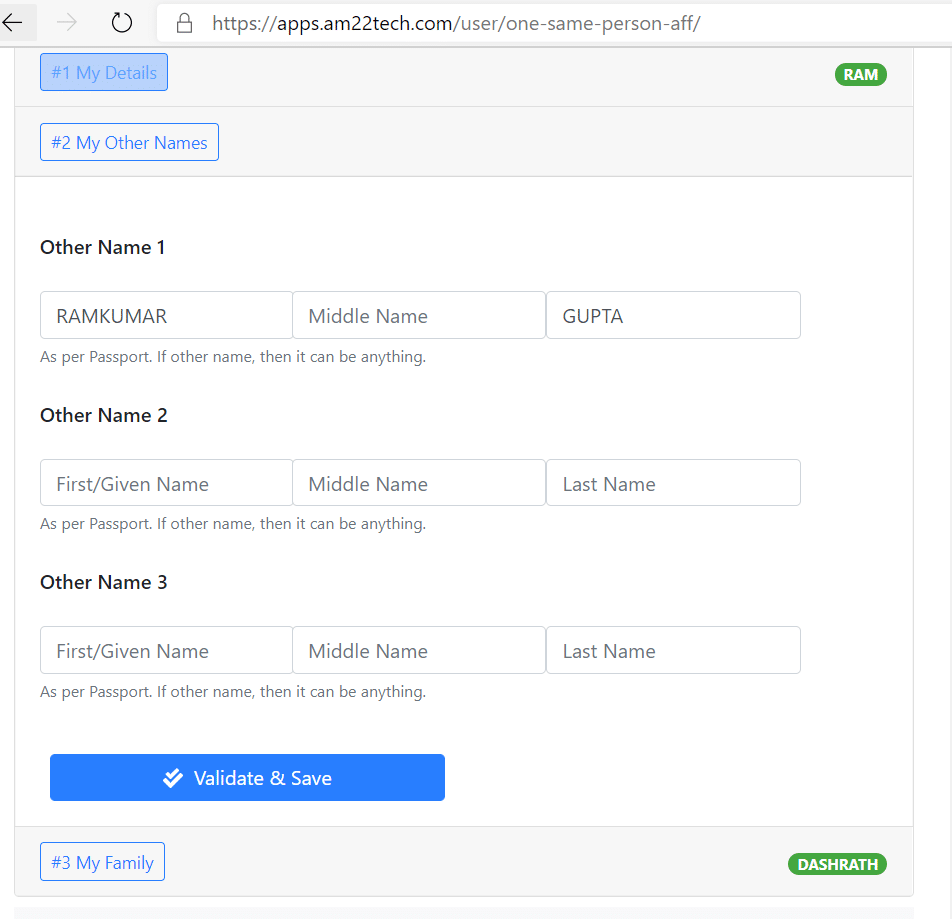 #3 Enter Father's Name
The last step in data entry is to fill in your father's name. Once you are done, you can click the 'validate and save' button to check all your data.
If there are any errors, the app will automatically ask you to fix them.
If there are no errors, you can click the 'Fill Form & Email Me (Secure)" button and your affidavit will be sent to your registered email address within minutes.
Email with Affidavit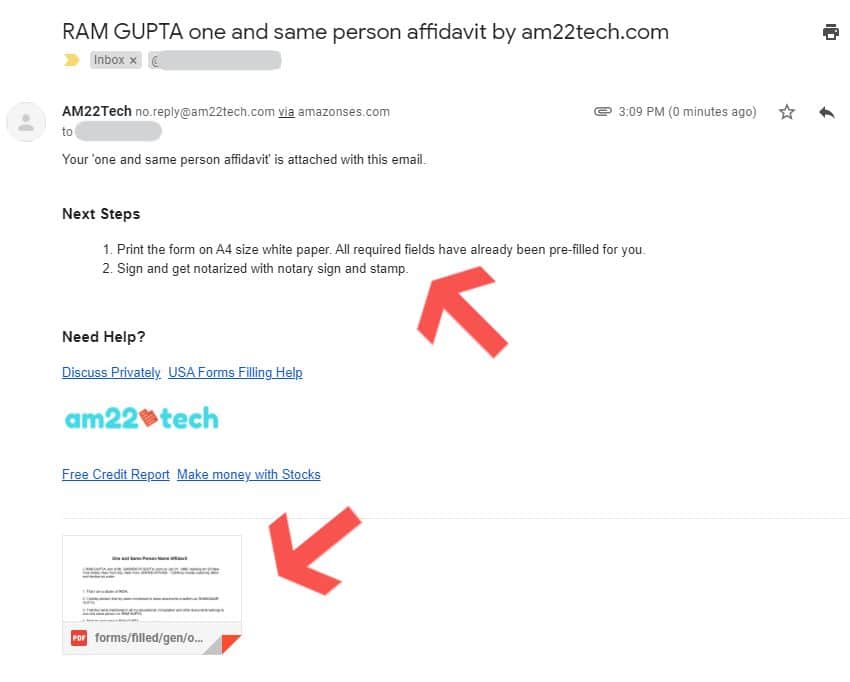 Sample Affidavit
This is a sample affidavit that arrives by email.
Use this affidavit sample to fill your different name combinations on various documents to verify that they all belong to the same person.
AFFIDAVIT
I, [MY_NAME_AS_PER_PASSPORT] Son/Wife/Daughter of [NAME_AS_PER_PASSPORT] residing at [CURRENT_ADDRESS] , do hereby solemnly affirm and declare as under:
That I am a citizen of [COUNTRY_NAME].
That I hereby declare that my name mentioned in some documents written as [NAME_1] in [Document_1] [NAME_2] in [Document_2]
That the name in all of the above mentioned documents belongs to one and same person i.e. [MY_NAME_AS_PER_PASSPORT].
That my real name is [MY_NAME_AS_PER_PASSPORT].
That it is my true and correct statement.
DEPONENT
Verified at [CURRENT_PLACE_CITY] on this [TODAY_DATE] that the contents of the above-said affidavit are true and correct to the best of my knowledge and belief.
NOTARY STAMP and Signature
FAQ
Is Notary Required for Multiple Name Affidavit?
The notary is required for multiple name Affidavit if you intend to use it for legal purposes in court or for applying for a visa/ immigration to Canada, the USA, Australia, or other countries.
Can I Create Affidavit on Plain Paper?
You can write or print the Name confirmation Affidavit on plain white A4 size paper to claim all or both names are the same person.

This name mismatch declaration is enough to prove the difference in your name between your passport, education documents, and other national IDs.

Example:
The one and same person affidavit can be used by a person in Kerala, India, or someone in California, USA to be used for Australia PR application or Canada permanent residency.