How to File i131 Advance Parole While i485 is Pending
Apply advance parole travel permission using USCIS form i131. Documents required & processing time. Use app to securely fill AP form. Sample EAD with AP Combo card.
AM22Tech Team
Updated 2 Aug, 23
You can easily fill your EAD and AP renewal yourself and apply directly with USCIS. These days, USCIS is issuing the GC EAD with AP for 2 years.
The good thing about i485 EAD is that you get an automatic 180-day extension if you filed your renewals before the current card expires.
The EAD application is filed using USCIS form i765 and advance parole requires filing a separate form i131. The USCIS may issue both in the form of a combo card if you applied them together and got approved too.
The form i765 is a common form for various types of EADs like H4, and L2, in addition to i485, and hence makes it a little difficult for a non-lawyer to fill up correctly. The i765 form is a little less complex than the i131.
If you miss any relevant field on the form for your case-specific situation, USCIS may simply reject the application and send it back to you. Note that there is a difference between rejection and RFE.
How to Fill i131 Advance Parole Form?
Log in to apps.am22tech.com and start filling in your details. The app is smart enough to detect the fields you need to fill based on your selections at each step.
It will also validate the correct USCIS form to avoid straight rejections.
Fill USCIS i131 Advance Parole form Online with our App
The app has a lot of in-built checks and validations to make sure you fill the right fields with correct data. USCIS rejects the applications even when you make an innocent mistake or leave a required field blank.
The app will make sure you do not leave anything.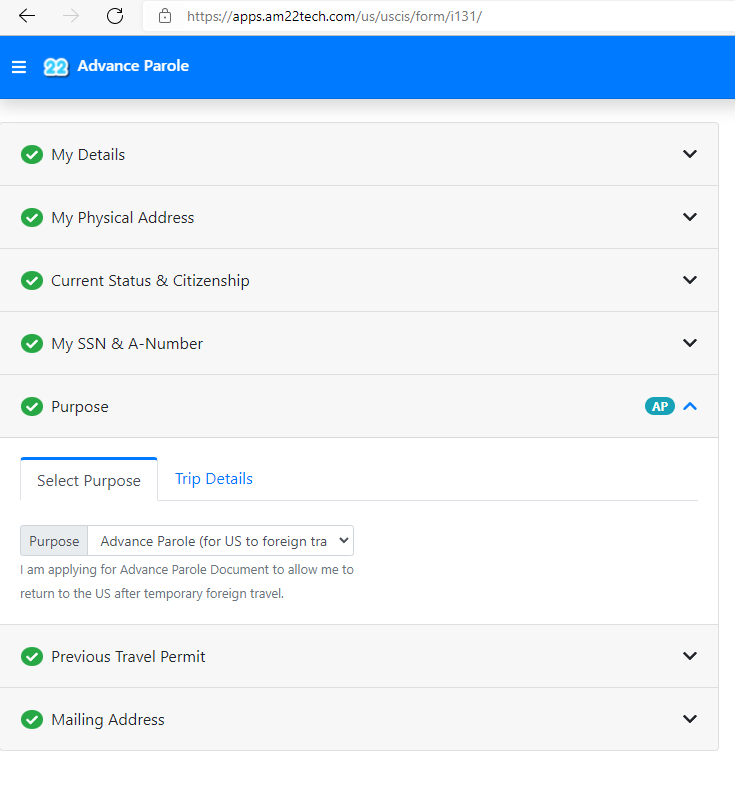 Once all the required fields have been set, you can generate the form. At this point, the app will automatically get the correct i131 USCIS form and fill in the details.
You will get this form by email and the instructions about what to do next.
Documents For AP (i131)
The document list may vary based on the purpose of your travel and then the type of underlying application with USCIS.
We will take the example of pending i485 and share the list of documents. We recommend sending color copies of all proofs but blank & white are also acceptable.
Pending i485 Receipt
Travel Reason Cover Letter – USCIS requires you to write an explanation letter as to why you need to travel.
Passport Copy (first page with your biometric information like photo etc. and last page with your address)
Two (2) identical passport-style photographs of yourself taken within 30 days of the filing of this application
Current i94 Copy
Approved/Pending i485 EAD card copy (if any)
US Driving License (if any)
Current EAD + AP combo card copy (if applying for AP renewal).
A copy of the U.S. consular appointment letter, if you are traveling to Canada to apply for an immigrant visa (Green card at the US embassy in Canada).
Advance Parole Processing Time
The current AP processing time can be found on the USCIS website or using one of the crowd-sourced case trackers.
USCIS website – Select form i131 and then the service center based on your receipt number.
The normal time varies from 7 to 12 months. In most cases, the advance parole is approved or denied at the same time as their pending EAD application.
If your EAD has been approved, you can expect your i131 application to reach a result within the next 1-10 days as the USCIS aims to produce the combo card rather than a separate card for each.
Advance Parole Card
EAD with Advance Parole (AP)
The EAD card category will be listed as C09P if the card also works as a travel document. Basically, this is a combo card that acts as:
EAD work Permit
Advance Parole for Travel (I-512)
EAD without Advance Parole (AP)
For people who do not have advance parole but only an EAD approval, the card will look like this.
The EAD card will have the category listed as C09 instead of C09P and also have the annotation "NOT VALID FOR REENTRY TO U.S." at the bottom of the card.
This can happen if:
Your i131 was denied
You applied only i765 EAD and did not file any i131 travel application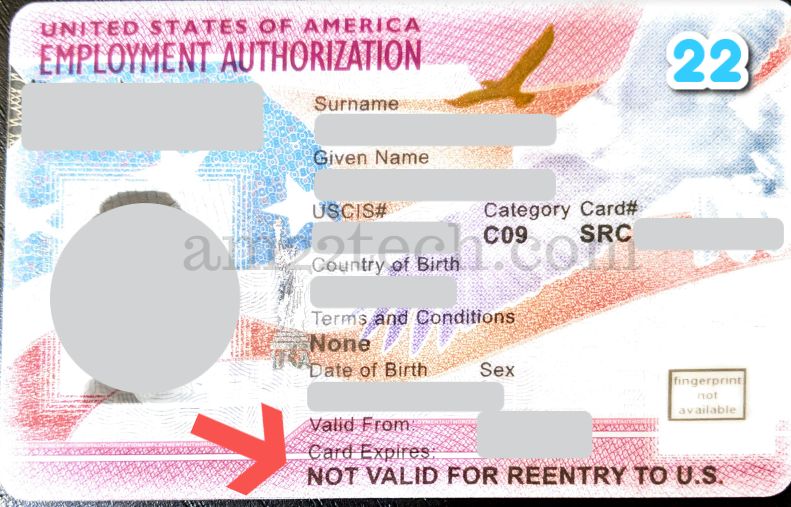 i131 is Denied
USCIS is supposed to deny your i131 advance parole application if you travel while it is pending. The only problem with travel apart from i131 denial is the reentry to the US. You will need some other visa type to return to the US if you do not have an AP approval.
This is fine with people who have a visa like H1B, L1, F1, etc to return without an issue. We have discussed the status issues and how you can use AP to avoid H1B visa stamping issues here.
This can happen even if you just traveled on a cruise to Mexico or visited any US border for an i94 extension, or used an AVR to return from Canada. There are some cases in which USCIS may still approve your i131 but most attorneys suggest refiling the i131 to be on the safe side.
i131 Fee
The i131 USCIS application fee is $0 (zero) if your i485 is pending at this time but a proposal to hike the fee to $575 is under review. The fee may or may not be increased in the future.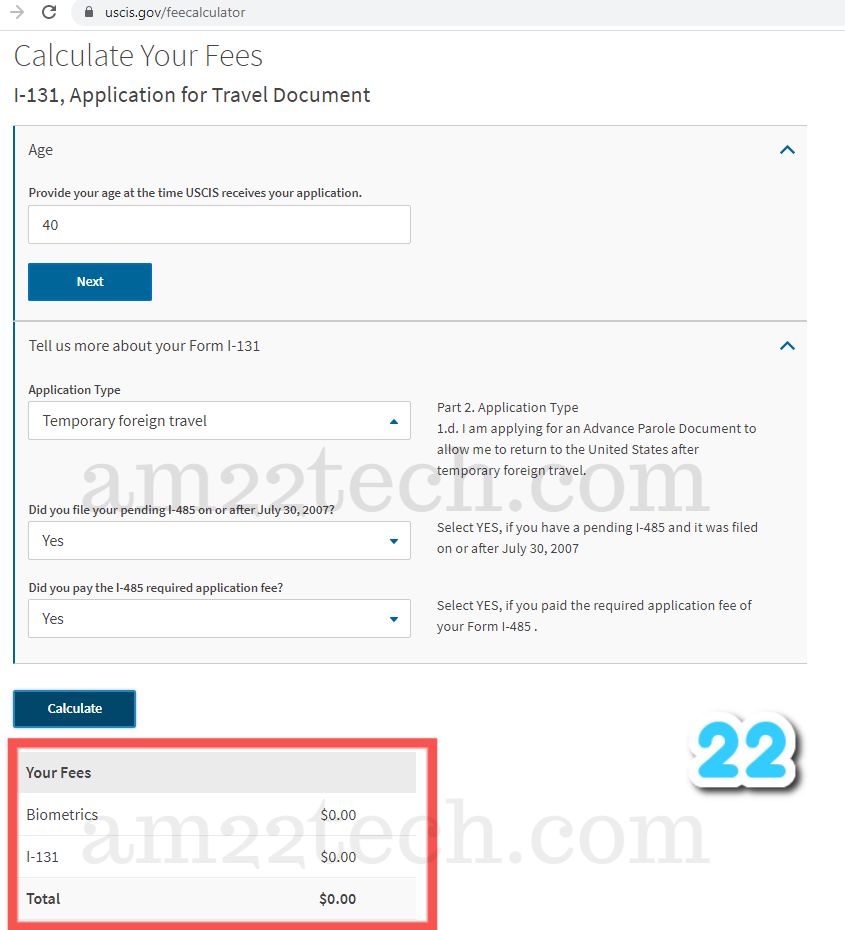 You can calculate the current fee using the USCIS fee calculator here. It is important to send the correct fee check if any, to avoid rejections. It can be a personal check.
FAQ
Can I travel while my I131 Advance Parole is pending?
You can travel while i131 advance parole is pending but USCIS will deny it. You will then have to re-apply the i131 AP when you are back in the US.

Note that in some cases USCIS approves the i131 even when you travel. We suggest not taking this as a guarantee of approval and strongly suggest to re-apply when you have returned to the US.
Are USCIS forms available for free?
Both forms i765 and i131 are available for free on the USCIS website for download and filling yourself.
How much does an attorney charge for filling EAD and AP?
The usual market rate for an attorney to help you with both i765 and i131 is around $700.

You would need to shell out around $500 if you want to apply only EAD.

We can help you get a better rate than your attorney on any USCIS immigration service.
Fill USCIS i131 Advance Parole form Online with our App