Visa Stamping in Mexico, Canada (First Time, COS, Renewal)
First time H1B stamping in Mexico, Canada for Indian, chinese in USA. H1B to H4 COS allowed. F to H4 stamping not allowed in Mexico. Canada visa required.
AM22Tech Team
Updated 24 Nov, 21
US visa Stamping in Mexico is allowed. You can also visit the US embassy in Canada to get your visa stamps. Both Mexico and Canada are accessible from the USA through land borders.
Visa Stamping in Mexico, Canada
First H1B stamping in Mexico is allowed for third-country national (TCN) like India, China citizens.
You cannot attend B1/B2 and H2 visa interviews in Canada or Mexico.
First Time Visa Stamping
US embassy in Canada allows first-time visa stamping.
Mexican US embassy also allows first-time visa stamping but with conditions.
Many people visit Nogales or the US embassy in Matamoros due to its proximity to the Texas land border.
One of our guests Anand got his first time H1B stamping in Nogales approved for 3 years. His experience:
I haven't found any appointments in Canada or India in 2 weeks. So took a risk by looking at other experiences in Mexico. It has been approved in Nogales Mexico and it is my first H1B and returned back to the US today.
You have been super helpful to me.
Thanks so much, Anil.
Approved for 3 years
Note that you should have an existing US visa stamp in your passport in the same class to visit Mexico. The existing visa stamp in the same class can be either valid or expired.
Example:
An H4 visa holder can visit Mexico to get a first time H1B stamp.
An F1 student cannot get first time H1B or H4 stamping in Mexico. Canada allows a change of visa class though.
Visa Renewal Stamping
Visa renewal visa stamp can be obtained in Mexico as well as Canada.
Many people visit Canada and Mexico for H1B renewal stamping including the H1B Amendment, Transfer, or extensions instead of visiting their home country.
You will need to carry proofs of your H1B approval including the original i797 approval form and client letter (most important) especially for third-party consulting companies with the EVC model.
H1B to H4 COS Visa Stamping
Check my Dropbox Eligibility Now >
Mexico: H1B to H4 change of status stamping in Mexico is allowed if you are currently on an H1B visa residing and working in the USA.
Canada: Visiting Canada is also a good option to get onto H4 status quickly given that H4 COS processing times are too high.
Many people get an H4 visa stamp and then quickly file and H4-EAD work permit after re-entering and save time.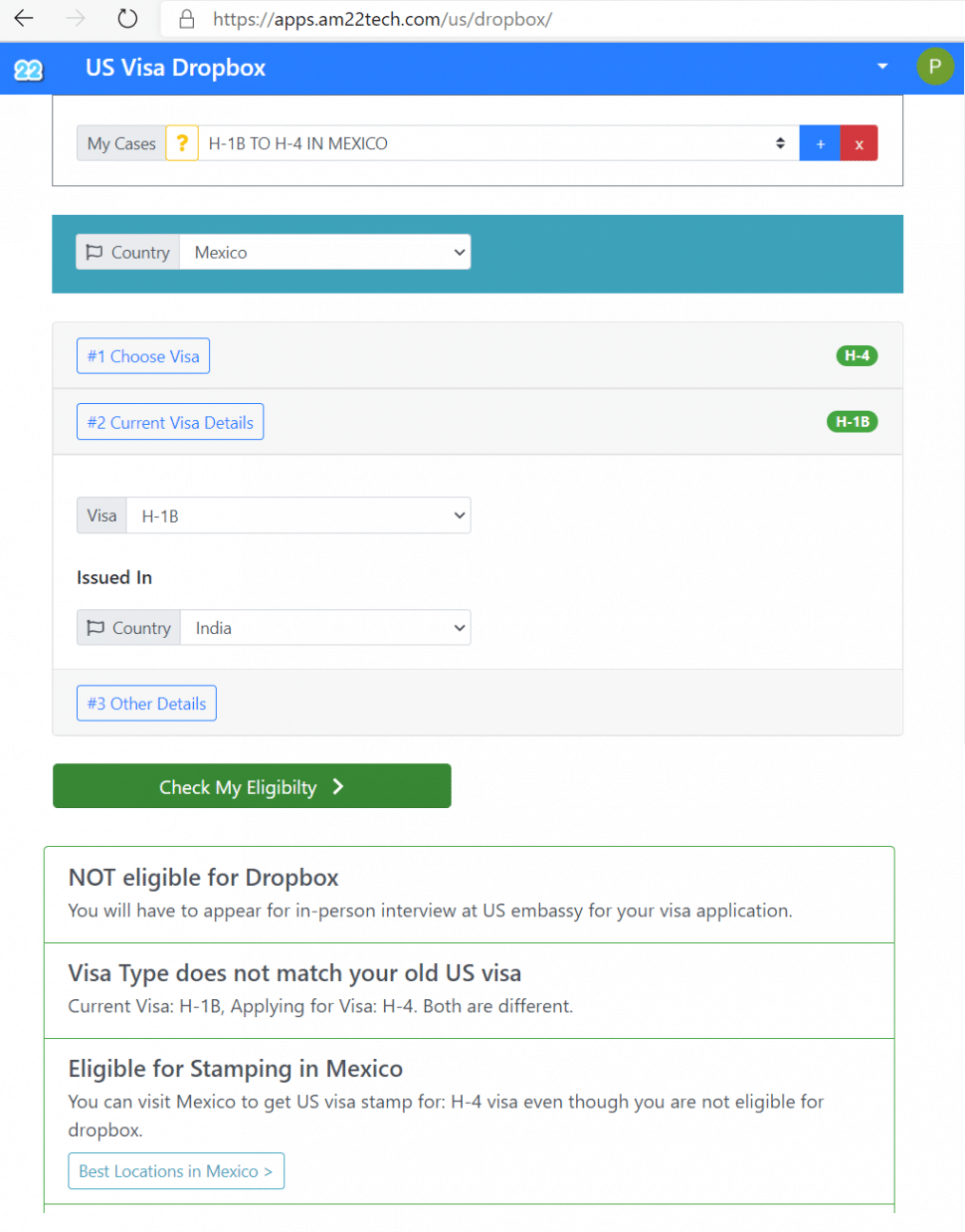 I also recommend people to get an H4 visa stamp in either Mexico or Canada instead of filing H4 COS while they are in H1B 60 day grace period after a job loss. Off-course, your spouse should have approved H1B for you to get an H4 visa.
Explain why H1B to H4 COS Reason
You may be asked the reason for changing from an H1B work visa to an H4 dependent visa by the visa officer. You can speak truthfully about the H1B extension denial or a job layoff. Do not try to hide the information as the visa officer will have all your details.
You should answer the question as "I will not work on an H4 visa" if asked, "do you plan to work in the USA" as you are applying for H4 at this time. H4 is not allowed to work until you have H4-EAD.
It is perfectly fine and legal to apply H4 and then apply H4 EAD after returning to the US.
F1 to H4 / H1B Visa Stamping
Mexico: US embassy in Mexico does not allow change of visa class stamping. This means that the F1 class of visa change to H4 or H1B is not allowed in Mexico.
Canada: Allows F1 to H4 or H1B category change stamping in the US embassy. You would need a Canada's visitor visa (or if you have other types of Canadian visa) to enter Canada.
Mexico allows US visa holders to enter their country and no separate Mexico visa is needed.
Related: US visa Stamping in Mexico – Ciudad Juarez Experience
Out-of-Status Visa Stamping
If you have been out of status in the USA because you violated the terms of your current visa like H1B or overstayed the validity printed on your I-94, then you are not eligible to apply at a U.S. Embassy or Consulate in Canada or Mexico as a citizen of any other country.
You must go for visa stamping in your home country i.e. nationality or passport.
You can prove your legal status using your current i797 approval notice or EAD card or renewed i94.
Form 221g, DS 5535
Form 221g can be issued in Mexico and Canada. If you are asked to submit more documents, you will have to stay there till a decision is made on your application.
You can get your passport back if you want to travel out of Mexico while your form 221g is being processed. The form 221g admin processing after visa approval can still take anywhere between 7 days to 8 weeks.
Off late, a form called DS5535 is issued to get your last 15-year travel history which can delay your visa processing.
FAQ
Can I visit Mexico with expired US visa to get new i94?
If you plan to visit Canada or Mexico and want to re-enter the USA within 30 days on an expired visa, you can enter as long as you have a valid I-94 using an automatic Re-validation process.
Which US embassy in Caanda allow visa stamping?
All US embassy in Canada allows visa stamping including Calgary, Halifax, Montreal, Ottawa, Quebec City, Toronto, and Vancouver.
Source: travel.State.gov
Official US Embassy Mexico guidance for Non Mexico Citizens