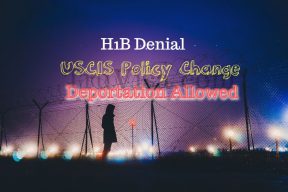 31 Jul, 18
USCIS policy change allows deportation order after visa denial including H1B extension or transfer. 240 day i94 expiry rule is going to hurt many if visa is denied.
2
USA
27 Jul, 18
USCIS RFE Response Review Processing time is 80+ days in 2018 for regular processing applications. Premium processing gets RFE reviewed in 15 days. You get 60 days to respond to RFE. USCIS tries to respond to RFE with maximum of 84 days but can take up-to a year too. USCIS timer starts after RFE response submission.
0
USA
26 Jul, 18
Yes, you will have to leave unless your parents (including you) get their Green card before your turn 21 due to 'Ageing out' in USA immigration law.
0
USA
26 Jul, 18
USCIS Sample Application withdrawal letter for H4-EAD, I-130, I-765 or any other petition type. There is no official USCIS form for cancellation of application. Copy of USCIS receipt notice and withdrawal reason is required. Send letter to USCIS office working on your application by checking receipt number code.
0
USA
26 Jul, 18
Sample experience letter for Australia 189, 190, 489 visa with Job role and responsibilities. Letter from colleague is acceptable with notarization.
0
Australia
26 Jul, 18
Indian income tax on google adsense from wordpress, website or youtube channel by salaried professional. Pay advance tax if total tax per year > 10k.
68
Finance