VFS FedEx Envelope – No return Label (Indian Passport Renewal)
Use FedEx Envelope, FedEx pak for free with VFS overnight shipping label. $30 for both sending & receiving. Cannot change return shipping address.
AM22Tech Team
Updated 17 Jun, 21
If you have purchased the VFS FedEx shipping for your Indian passport renewal, then you can use the following types of FedEx envelopes for free:
FedEx Envelope (the Regular paper-based envelope)
FedEx Reusable envelope
FedEx Small Pak
FedEx Large Pak
Do not use any FedEx box (cardboard) or any other type of envelope to ship your package to VFS.
We recommend using VFS shipping if you want to use FedEx overnight delivery. At this time, VFS does not allow you to use your own FedEx labels.
Similarly, you can use the standard priority mail or legal envelopes from UPS and USPS if you are using your own shipping. The sample free envelopes are shown in the above image.
Cost
VFS FedEx shipping cost is $30. It is a combined charge for both sending and receiving back the package. There is no option of buying only one way service at this time.
VFS only has the option of buying FedEx overnight service at this time.
If you decide to buy your own shipping service outside of the VFS site, you would need to have the shipping label numbers ready before you pay for the passport application fee on the VFS site.
Do not enter the dummy label numbers as you cannot change them once you have submitted the application on the VFS site. There are no edits allowed.
FedEx Return Envelope
The is no need to send the 'return envelope' with your application if you have used the VFS FedEx shipping service. VFS will automatically pick up the FedEx envelope and paste your 'return shipping label' to return your renewed passport.
If you are using your own shipping service like UPS or USPS, then you should stick the return label on the 'return envelope' and send it along with your application package. VFS may not take the hassle of picking up the envelope from the shipping service for you.
VFS Return Label Address
The return label address should match your US address proof as per VFS global guidelines. Hence, you cannot use someone else's address on the 'return envelope' label.
Return Shipping Label not Generated?
When you buy the FedEx shipping labels from VFS directly, they only generate a one-way label and send it to you. No need to worry as the return label is generated by VFS when they are ready to send your passport package back.
Change Shipping Label Address After Payment
You cannot change the shipping label address once it has been generated. If you call VFS customer care, they will ask you to contact FedEx to change the address but FedEx will ask you to contact the label generator, which in this case is VFS.
You should make sure that you enter the correct addresses while generating the labels on the VFS site as they cannot change or modify the address once the label has been generated.
We have tried it and there is no end to this madness.
VFS has no idea about how to make changes to the FedEx label. They will simply ask you to cancel the whole application and redo everything.
If you keep arguing, you will be paying for the VFS support call too. So, it is in your best interest to check your label address 100 times before clicking the 'pay' button on the VFS site.
VFS customer care services are not free and you will be charged $2.48 per minute if you have to call for any type of query even though they do give 5 minutes of free consultation per week.
Use Own Shipping
You can use any other shipping or courier like UPS, USPS, and many others listed as an option on the VFS site but they all have some of the other conditions attached to it.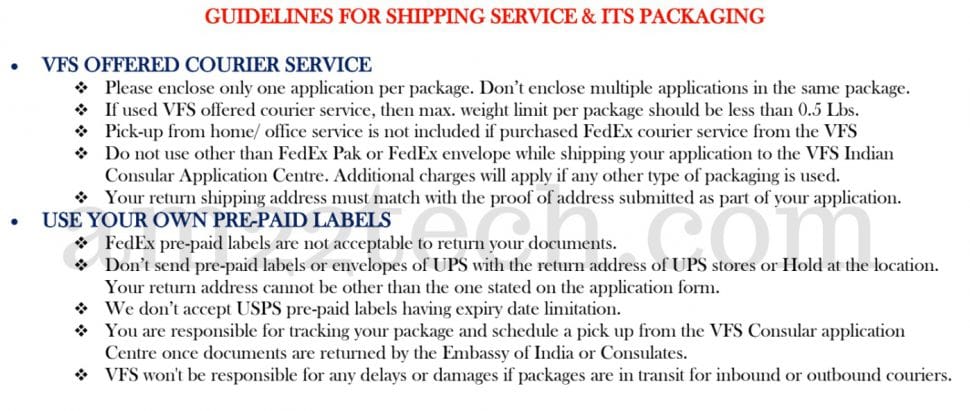 VFS has not clearly mentioned any of that limitation on their shipping selection and payment page. This is the main problem with the VFS portal as they have scattered information at multiple places with contradicting points.
Example:
USPS pre-paid label with an expiry date is not accepted.
UPS pre-paid labels with the return address of the UPS store are not accepted. That's reasonable but you will still be guessing as to what to do.
You are responsible for making sure that UPS or USPS picks up your package from the VFS office once it is ready. This is another hassle.
As per our experience, it is better to use VFS FedEx than to keep going in circles with VFS support later with respect to package delivery. Their customer care executive itself will give a different answer each time you call.
Family Applications – Multiple Passport in One Envelope
VFS does not accept multiple applications using one envelope.
You should send each family member's application separately in a separate envelope.